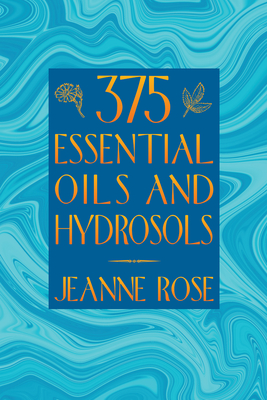 375 Essential Oils and Hydrosols
Paperback

* Individual store prices may vary.
Description
This thorough guide profiles 375 different essential oils according to botanical family, habit and growth, chemical components, and actions. Historical notes and lore, often from Chinese alchemy as well as western botanical sources, are featured. Essays on evergreens, lavender, chamomile, jasmine, and more fill out important categories. Graceful botanical illustrations illuminate the text.
Praise For 375 Essential Oils and Hydrosols…
"Jeanne Rose does it again, detailing the aromatic world in a new light! In this book she combines ancient and modern biochemical knowledge with decades of her own hands-on involvement in aroma and body products, natural cosmetics, and medicinces to make a wonderful whole."
- James A. Duke, Ph.D.

"Thanks to her encompassing understanding of the vegtal kingdom and its powerful resources, Jeanne Rose takes the reader on a travel that is always refreshing and exciting."
- Daniel Penoel, M.D.
North Atlantic Books, 9781883319892, 280pp.
Publication Date: August 24, 1999
About the Author
Jeanne Rose has also written Jeanne Rose's Herbal Guide to Food, Jeanne Rose's Kitchen Cosmetics, Jeanne Rose's Herbal Body Book, and The Aromatherapy Book.