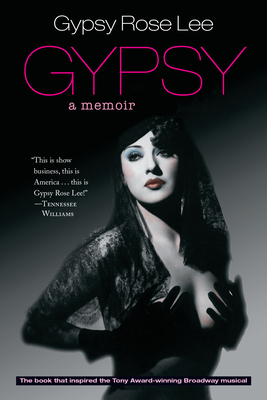 Gypsy
A Memoir
Paperback

* Individual store prices may vary.
Description
Gypsy Rose Lee's memoir became a New York Times bestseller in 1957, inspiring the 1959 hit musical, two movies, and three revivals. Now a fourth, directed by Arthur Laurents and starring Patti LuPone, is lighting up New York, winning top Broadway theatre awards, including three 2008 Tony Awards, as well as raves from critics and audiences:
"No matter how long you live, you'll never see a more
exciting production." —Terry Teachout, The Wall Street Journal
"Watch out, New York! This GYPSY is a wallop-packing show of raw power." —Ben Brantley, The New York Times
"Not your ordinary theater experience. This is the best production
of the best damn musical ever." —Liz Smith, Syndicated Columnist
The memoir, which Gypsy began as a series of pieces for The New Yorker, contains photographs and newspaper clippings from her personal scrapbooks and an afterword by her son, Erik Lee Preminger. At turns touching and hilarious, Gypsy describes her childhood trouping across 1920s America through her rise to stardom as The Queen of Burlesque in 1930s New York—where gin came in bathtubs, gangsters were celebrities, and Walter Winchell was king.
Gypsy's story features outrageous characters—among them Broadway's funny girl, Fanny Brice, who schooled Gypsy in how to be a star; gangster Waxy Gordon, who fixed her teeth; and her indomitable mother, Rose, who lived by her own version of the Golden Rule: "Do unto others … before they do you."
Praise For Gypsy: A Memoir…
"... will delight anyone who has a love for the annals of the American stage."- Newsweek"This is show business, this America... this is Gypsy Rose Lee!"- Tennessee Williams"I found it irresistable. It's quite a performance. I bet some of it is even true, and if it wasn't, it is now."- John Steinbeck
North Atlantic Books, 9781883319953, 408pp.
Publication Date: July 15, 1999
About the Author
Gypsy Rose Lee (1911–1970) was an infamous vaudeville entertainer best known for her burlesque performances. Her memoir was adapted into the renowned musical Gypsy. She also appeared in several films and television programs including The Trouble with Angels and The Over-the-Hill Gang. In addition to her memoir, Lee wrote the novels The G-String Murders and Mother Finds a Body, as well as the play The Naked Genius.

Erik Preminger is the son of burlesque performer Gypsy Rose Lee and film director Otto Preminger. An actor, writer, and producer, Preminger's published works include Gypsy & Me: At Home and on the Road with Gypsy Rose Lee and My G-String Mother: At Home and Backstage with Gypsy Rose Lee.
or
Not Currently Available for Direct Purchase