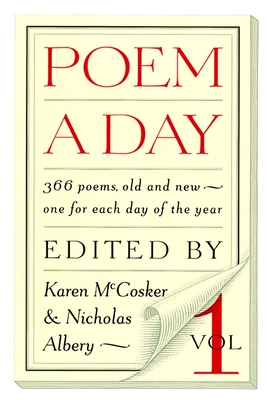 Poem a Day (Paperback)
Vol. 1: 366 Poems, Old and New - One for Each Day of the Year
Steerforth, 9781883642389, 496pp.
Publication Date: June 1, 1998
* Individual store prices may vary.
Description
Once upon a time men and women of sense and sensibility knew by heart dozens of poems - Shakespeare's sonnets, stirring patriotic verse, odes to churchyards and elegies for the departed, the music of Swinburne or Poe or Yeats. Poems are meant to be voiced and A Poem a Day includes 366 poems old and new - one for each day of the year - worth learning by heart. Only two criteria were demanded of each poem for inclusion in this collection - it had to be short enough to learn in a day, and good enough to stand among the great poetry of the English language, from Chaucer to Sylvia Plath.

A Poem a Day is a book for the bedside. It contains many of the most familiar poems in the language and others that will come as a surprise. Most are complete and most are short, easily contained in a single page. But a few are substantial works, like Thomas Gray's "Elegy Written in a Country Churchyard" and Rudyard Kipling's "Gunga Din." Some have been read by every high school student (Andrew Marvel, "To His Coy Mistress") while others will be new to most readers (Thomas Hardy, "The Voice"). But all share the compression and charged meaning which are the soul of poetry.

In its British version the book went through seven printings in a year and was a bestseller. Now Karen McCosker has added a new foreword and fifty new poems for an American audience willing to make poetry a part of life.
About the Author
Karen McCosker is a poet who lives in Maine and teaches at the University of Maine at Presque Isle.

Nicholas Albery (1948–2001) was the founder of the Institute for Social Inventions. He was also a writer, activist, and lover of poetry. He lived in London. Albery's other publications are Alternative Gomera (1994), The Book Of Visions (1993), The Problem Solving Pocketbook (1989), and How To Feel Reborn: The Varieties Of Primal And Rebirthing Experiences (1985).
Praise For Poem a Day: Vol. 1: 366 Poems, Old and New - One for Each Day of the Year…
"This book is a dream, a revivalist campaign, a challenge, a book of days, and an anthology, all in one." -- The Guardian

"A very good and varied collection, with delightful oddities." -- The Times (London)