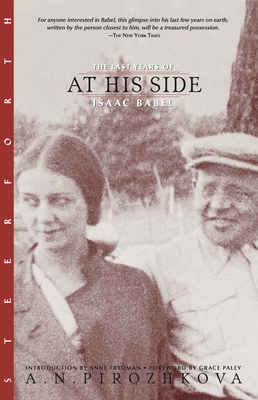 At His Side
The Last Years of Isaac Babel
Paperback

* Individual store prices may vary.
Description
I WISH TO RESTORE to public memory certain features of a man endowed with great goodness of spirit, a passionate interest in people, and a miraculous gift for depicting them." So begins A. N. Pirozhkova's moving memoir of her life with Isaac Babel, perhaps the Soviet Union's greatest writer, and one of the literary world's most lively and endearing characters. Pirozhkova was the only female engineer working on Stalin's grand Moscow subway project when she met Babel in 1932 and they spent the next eight years as husband and wife. At His Side is populated with Babel's wide circle of friends - among them Maxim Gorky, Sergey Eisenstein, and André Malraux - and includes some wonderful vignettes, as when Babel accompanies a cantankerous Boris Pasternak on a long train ride to Germany to receive a literary prize. But it is Babel himself, the affable and always witty writer, who is given vivid life on this pages. And then, in 1940, Stalin's secret police arrive at the door to take Babel away, and there begins the long and sorrowful aftermath to the story. After a mock trial, Babel was summarily executed, but his fate was kept from Pirozhkova and for years she was led to believe he was alive - and writing - in a Siberian prison camp. It was not until 1952 that she learned that Babel was dead, but even then the authorities played with the truth, claiming he'd died of a heart attack. It was only after the collapse of the Soviet Union that Pirozhkova learned the true circumstances of Babel's murder.

"Babel lives in his wife's lucid yet adoring prose. We are with her, at his side"--New York Times Book Review
"This glimpse into Babel's last few years on earth, written by the person closest to him, will be a treasured possession" --Richard Bernstein
The New York Times
Steerforth, 9781883642983, 208pp.
Publication Date: June 1, 1998
About the Author
A. N. PIROZHKOVA, now eighty-six years old, has recently moved from Russia to Washington, D.C.
or
Not Currently Available for Direct Purchase