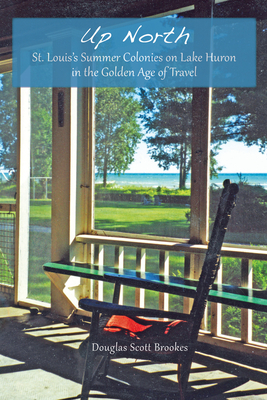 Up North
St. Louis's Summer Colonies on Lake Huron in the Golden Age of Travel
Paperback

* Individual store prices may vary.
Description
For everyone from school age to professional, there is no greater pleasure than the summer vacation, the chance to pack our suitcases and escape from workaday life and domestic chores; we look forward to it during the long slog and count down the days on our calendars. But the idea of travel for relaxation is actually a relatively modern concept. The construction of the vast American railroad network that made quick travel over long distances feasible combined with the rise of the middle class, which brought with it the time and money to afford travel, established the phenomenon of summer leisure touring in the late 1800s. As such, the word vacation came to mean not just a school holiday, but travel for pleasure. With the rise of leisure travel came the rise of the tourist destination, resort towns catering specifically to the needs and desires of this new kind of traveler.
Up North looks specifically at the history of two such resort communities on the shores of Lake Huron in Michigan. Like the Hamptons that lure New Yorkers and the Lake Michigan beaches that attract Chicagoans, the communities along Lake Huron were a hot spot of summer fun for thousands of St. Louisans. Focusing on the heyday of Lake Huron beaches between 1880 and 1950, Up North brings together local newspaper columns from the time and excerpts from letters and diaries to paint a vivid portrait of life at these summer resorts. Douglas Scott Brookes's family vacationed along the Lake Huron Beaches for generations, and in this book he weaves together his family's experiences with the larger story of the rise of vacationing in America. He examines why summer vacations became popular in the late 1800s, and he seeks to explain what kept tourists coming back, often to the same place year after year, establishing family traditions.
A fascinating perspective on the history of leisure travel in America, Up North celebrates our common need to get away from the humdrum, and it will be welcome reading for all of us daydreaming of crystalline lakeshores.
Missouri Historical Society Press, 9781883982744, 224pp.
Publication Date: May 15, 2013
About the Author
A native of St. Louis, Douglas Scott Brookes is a writer on Middle Eastern history and a translator from Turkish. He is also the author of The Concubine, the Princess, and the Teacher: Voices from the Ottoman Harem and The Ottoman Gentleman of the Sixteenth Century.
or
Not Currently Available for Direct Purchase