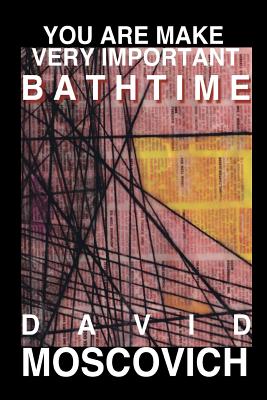 You Are Make Very Important Bathtime (Journal of Experimental Fiction #54) (Paperback)
Jef Books, 9781884097546, 102pp.
Publication Date: July 28, 2013
* Individual store prices may vary.
Description
YOU ARE MAKE VERY IMPORTANT BATHTIME is about an expatriate in a foreign land and his failure to navigate the awkward seas of extreme culture clash. Set in Southern Japan, it is a celebration of the beauty of misunderstanding and the inadvertent poetry of bad grammar. This novella is an anthropology of self-exoticism as much as it is about the micro-sentence structure, the macro form, which awakens 'you', the narrator, towards release.
About the Author
David Moscovich writes flash fiction and performs his texts both live and on the radio, fragmenting, ricocheting, and refurnishing language until it meets its own devolution. He lives with chronic insomnia in New York City and runs Louffa Press, a micro-press dedicated to printing innovative fiction. http: //www.davidmoscovich.com
Praise For You Are Make Very Important Bathtime (Journal of Experimental Fiction #54)…
"A wild and enlivening collection of stories that capture the comedy, chaos and uncertainty of living as an alien in a place just beyond one's understanding. Moscovich is a daring writer, and this book, both preposterous and beautiful, is an unusual demonstration of talent." -Michael Thomsen, author of Levitate The Primate



"Brief yet with a mirror's depth, in nearly a hundred second-person sentence-stories Moscovich created a remarkable character [...] a foreigner with an empty notebook and itchy, unsharpened 20-something pencil." -Joseph Riippi, author of A Cloth House



"David Moscovich's prose reads like an experience. It's not just prose, but something that weaves itself into the fabric of experience through abstraction. His stories aren't so much read as inhabited, internalized, and then blown the fuck up." -Dustin Luke Nelson, InDigest Magazine