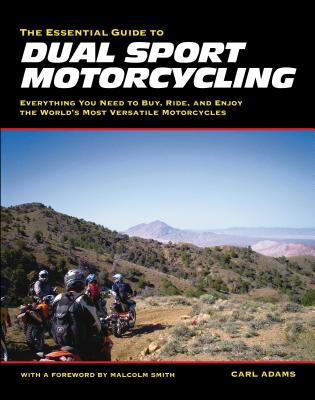 The Essential Guide to Dual Sport Motorcycling
Everything You Need to Buy, Ride, and Enjoy the World's Most Versatile Motor
Paperback

* Individual store prices may vary.
Description
This book is written to help adventuresome motorcyclists buy, ride, and enjoy dual sport motorcycles, those versatile machines that are equally at home on the street and in the dirt. It is organized into four sections covering motorcycle selection, setup, riding technique, and specialized activities such as off-road touring and rallies. Several chapters include exercises designed to improve riding and impart new skills. Over 250 full-color photographs illustrate the many options for gear, clothing, and aftermarket accessories which can add comfort, safety, and convenience to any motorcycle adventure. The book also contains many references and sources to orient enthusiasts to the sometimes overwhelming sea of information that is available. New riders will benefit from the clear explanations of dual sport gear, accessories, and techniques, while experienced riders coming to dual sport from a street riding background will find chapters covering advanced dirt riding skills, GPS navigation, and preparing for multi-day trips. Riders at all levels will gain a broader perspective of the dual sport experience, from which they can begin their journey to new motorcycle adventures.
Praise For The Essential Guide to Dual Sport Motorcycling: Everything You Need to Buy, Ride, and Enjoy the World's Most Versatile Motor…
" As roads become more crowded and the speed capabilities of everyday motorcycles approach those of the fastest racing machines, the desire to enjoy the simple pleasures of gathering a group of friends for an off-road adventure gets more appealing all the time.  You may know of trails in your area and be aware of events you might enter, but the unknowns could be holding you back.  Carl Adams has done us all a great favor by creating an encyclopedic look at dual-sporting; "Everything you need to buy, ride and enjoy the world's most versatile motorcycles" to paraphrase the book's cover.  Malcolm Smith wrote the foreword, and you can't ask for a higher recommendation than that.  This book contains so many nuggets of wisdom, you'll be at least a year ahead of the game by the last page."  - Motorcycle Consumer News

"Today's dual sport rider faces many bewildering choices for machines and gear. Navigating those waters is tough and trusted advice can help riders make the most of their time and money. (Adams) thrifty no-nonsense perspective is refreshing and sound. . . .I give it four out of four cylinders." - Editor Victor Wanchena, Minnesota Motorcycle Monthly

—
-
Whitehorse Press, 9781884313714, 176pp.
Publication Date: October 15, 2008
About the Author
Carl Adams has been riding dual sport motorcycles for more than 45 years, including a period of endure racing in the '70s. More recently he has served as an officer of an active dual sport riding club in Reno, Nevada.
or
Not Currently Available for Direct Purchase