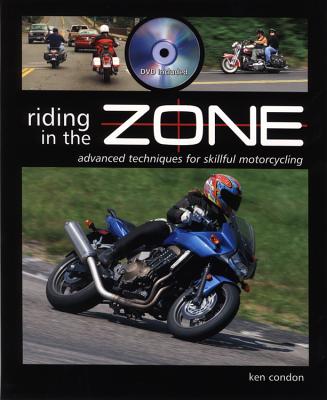 Riding in the Zone (Paperback)
Advanced Techniques for Skillful Motorcycling
Whitehorse Press, 9781884313769, 144pp.
Publication Date: February 15, 2009
Other Editions of This Title:
Paperback (9/24/2019)
* Individual store prices may vary.
Description
Riding motorcycles is fun but Ken Condon maintains there is a state of being beyond the simple pleasure of rolling down the road, this book was written to help other riders find that state of being. It's the experience of being physically and mentally present in the moment, where every sense is sharply attuned to the ride. Your mind becomes silent to the chatter of daily life and everyday problems seem to dissolve, you feel a deeper appreciation for life. Your body responds to this state of being with precise, fluid movements, you feel in balance, your muscles are relaxed, and it seems as though every input you make is an expression of mastery. This is "the Zone." Condon has identified all the factors that affect entering the Zone and addresses each one individually, from the development of awareness and mental skills to mastering physical control of the motorcycle. At the end of each chapter are drills designed to transform the book's ideas into solid riding skills. A companion DVD is included to demonstrate each concept and technique.
About the Author
A motorcyclist for more than three decades, Ken Condon is best known as the current author of the monthly Proficient Motorcycling and Street Strategies columns for Motorcycle Consumer News. He is also the chief instructor for Tony's Track Days at Loudon race track and is an experienced Motorcycle Safety Foundation instructor.
Praise For Riding in the Zone: Advanced Techniques for Skillful Motorcycling…
"In my opinion, this is one of the best motorcycle skills books on the market to day, and both Ken and Whitehorse are to be commended for making it available."
- Motorcycle Consumer News
"You've got not excuse to brush up on your skills. Condon has made it as clear, and as easy as it's going to get!  This book represents excellent value for money. I recommend that you check it out."
- Canadian Motorcycle
"The vast majority of motorcycling books on the market focus on the motorcycle itself, not the rider.  There are only a handful of books on developing the skills to control your bike.  Ken Condon's new book and DVD, Riding in the Zone, focuses on being confidently in control, and the DVD (included) provides real-time demonstrations."
- RoadBikeMag.com