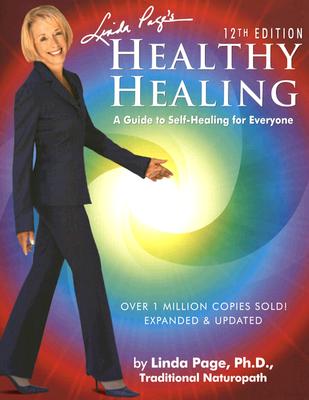 Healthy Healing - 12th Edition
A Guide to Self-Healing for Everyone
Paperback

* Individual store prices may vary.
Description
The Ultimate Resource For Improving Your Health Naturally!Over 1 million copies sold!In its first edition nearly 20 years ago, Dr. Linda Page's book, Healthy Healing, was the only one of its kind. Now updated and expanded, Healthy Healing is still the easiest to use bestselling natural health reference book on the market.Customize your own personal healing program using natural therapies for more than 300 ailments through diet, whole herb supplements and exercise.Live Longer, feel better and look better, naturally!
Healthy Healing Enterprises Llc, 9781884334924, 651pp.
Publication Date: September 1, 2004
About the Author
About Dr. Linda Page Ph.D., Traditional NaturopathBack in the late 1970's, long before natural foods and herbal formulas became a widely accepted method for healing, Linda Page was sharing her extensive knowledge with those who dared to listen.Through what some would call a fateful accident, but Linda deems a blessing, she was faced with only one choice: to research alternative avenues of healing. While sequestered in a hospital with a life-threatening illness, she watched her 5-foot frame wither to 69 pounds, her hair drop out, and her skin peel off. The doctors told her they had no cure.(Read Linda's healing story in her own words, "Dear Reader")With only a cursory knowledge of herbs, she began a frantic research process of testing herbal formulas and healing food combinations on herself. She read voraciously about herbal healing. Good friends helped her shop for herbs and she began to formulate the many compounds that would eventually save her life.Linda was astonished as she watched her body restore itself back to life and wholeness, with skin and hair softer and more supple than ever before. It was this incident that inspired Linda to seek a degree in Naturopathy, and later her Ph.D. in Holistic Nutrition. After completing her coursework at Clayton College of Natural Health in Birmingham, Alabama, she became an adjunct professor. This was only the beginning for Linda.Linda's rewarding career as a leader in natural health and healing now spans almost three decades. As a prolific author and educator, Dr. Page has sold over a million books. Her most famous book, Healthy Healing - A Guide To Self-Healing For Everyone, has been used as a textbook for health and nutrition courses at UCLA, The Institute of Educational Therapy, and Clayton College of Natural Health; as well as being the original quick reference book of natural healing programs anyone can use. She has also written other books including: Diets for Healthy Healing, Cooking For Healthy Healing, How To
or
Not Currently Available for Direct Purchase