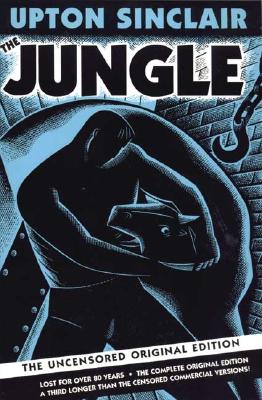 The Jungle
The Uncensored Original Edition
Paperback

* Individual store prices may vary.
Description
For nearly a century, the original version of Upton Sinclair's classic novel has remained almost entirely unknown. When it was published in serial form in 1905, it was a full third longer than the censored, commercial edition published in book form the following year. That expurgated commercial edition edited out much of the ethnic flavor of the original, as well as some of the goriest descriptions of the meat-packing industry and much of Sinclair's most pointed social and political commentary. The text of this new edition is as it appeared in the original uncensored edition of 1905. It contains the full 36 chapters as originally published, rather than the 31 of the expurgated edition. A new foreword describes the discovery in the 1980s of the original edition and its subsequent suppression, and a new introduction places the novel in historical context by explaining the pattern of censorship in the shorter commercial edition.
Praise For The Jungle: The Uncensored Original Edition…
"Starred Review. Originally published in 1991 as part of a short-lived revival of the Classics Illustrated line, this adaptation of Sinclair's muckraking socialist novel succeeds because of its powerful images. When Kuper initially drew it, he was already a well-known left-wing comics artist. His unenviable task is condensing a 400-page novel into a mere 48 pages, and, inevitably, much of the narrative drama is lost. Kuper replaces it, however, with unmatched pictorial drama. The story follows Lithuanian immigrant Jurgis Rudkis and his family as they are eaten up and spit out by capitalism (represented by Chicago's packing houses). Kuper uses an innovative full-color stencil technique with the immediacy of graffiti to give Sinclair's story new life. When Jurgis is jailed for beating the rich rapist Connor, a series of panels suffused with a dull, red glow draw readers closer and closer to Jurgis's face, until they see that the glint in his eye is fire. Jurgis, briefly prosperous as a strong-arm man for the Democratic machine, smokes a cigar; the smoke forms an image of his dead son and evicted family. Perhaps most visually dazzling is the cubist riot as strikers battle police amid escaping cattle. Kuper infuses this 1906 novel with the energy of 1980s-era street art and with his own profoundly original graphic innovation, making it a classic in its own right. Copyright Reed Business Information, a division of Reed Elsevier Inc. All rights reserved" —Publishers Weekly

"A must read. Recommended for all public, academic and junior through senior high schools." —Kansas Libraries


See Sharp Press, 9781884365300, 352pp.
Publication Date: April 1, 2003
About the Author
Upton Sinclair was a journalist and the author of over two dozen books, including The Brass Check, King Coal, and Oil!. He was a prominent social and political activist who narrowly missed being elected governor of California in 1934.