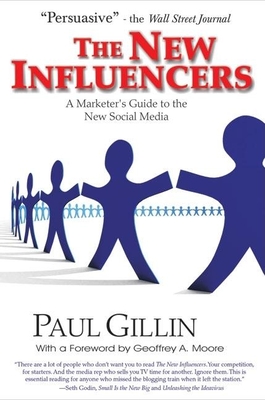 The New Influencers
A Marketer's Guide to the New Social Media (Books to Build Your Career by)
Paperback

* Individual store prices may vary.
Other Editions of This Title:
Hardcover (4/1/2007)
Description
Exploring how and why online forums such as Facebook, Twitter, and blogs have gained such popularity--and credibility--with consumers, this practical guide offers proven strategies for organizations to leverage these new internet-based social media outlets. The differences between traditional and new media are explored, as are simple ways business owners and marketers can use these new resources to communicate with their customers. Practical tips on gaining the attention of and interacting with influential bloggers, the pros and cons of creating a company blog, guerilla marketing on the internet, and restructuring marketing expectations are also discussed.
Praise For The New Influencers: A Marketer's Guide to the New Social Media (Books to Build Your Career by)…
"This is a benchmark book. Gillin brings his engaging and brilliant journalist style to a profound topic with flair and thoughtfulness. Read this book!" Larry Weber, founder, The Weber Group and W2Group
"If you haven't immersed yourself in blogs or started one yourself, The New Influencers can tell you what is popular, what type of blogs work, and what king of impact they're having across the consumer and corporate worlds." Dean Takahashi, San Jose Mercury News
"Gillin has managed to capture the essence of trend and what it means for marketers. Individuals, armed with technology, are seeking out others like themselves and sharing their opinions with the world. There's a new breed of influencers and they're talking about your brand." Steve Rubel, MicroPersuasion
"This is essential reading for anyone who missed the blogging train when it left the station."  Seth Godin, author, Small Is the New Big
"Gillin makes a persuasive case for companies' reaching out to bloggersthey are still seeking information, and many are embracing social media."  The Wall Street Journal
"Offers practical advice for anyone to increase brand presence and capture new audiences in the online space . . . Gillin's in-depth analysis, research and insights remain strong and reliable."  Fast Company
Quill Driver Books, 9781884956942, 236pp.
Publication Date: May 1, 2009
About the Author
Paul Gillin is a social media marketing consultant. He was the founding editor of ""Computerworld"" and ""TechTarget ""and has been reporting on the impacts of technology and media for more than 25 years. He lives in Framingham, Massachusetts. Geoffrey A. Moore is the bestselling author of ""Dealing with Darwin"" and ""Living on the Fault Line."" He is a cofounder and managing director of TCG Advisors and a venture partner at Mohr Davidow Ventures. He lives in San Francisco.