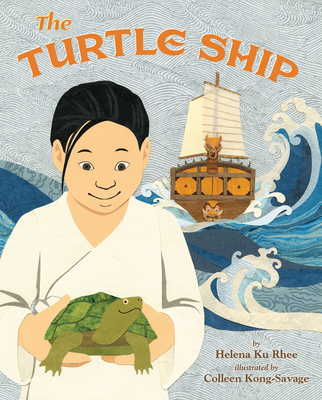 The Turtle Ship (Hardcover)
Shen's Books, 9781885008909, 32pp.
Publication Date: June 5, 2018
* Individual store prices may vary.
Description
Long ago in Korea, a young boy named Sunsin spent his days playing with his pet turtle Gobugi and dreaming of sailing around the world. As a poor villager, though, his dream to travel seemed impossible. Then one day, the king's court announced a contest to find the best design for a new battleship to defend the land from invaders. The winner would sail the ocean with the royal navy.
Determined to win, Sunsin attempts to build an indestructible battleship with a few found items. Each attempt fails miserably against the powerful sea, and with it Sunsin's dream also sinks to the bottom. Turning to Gobugi for comfort, Sunsin notices how his pet turtle is small but mighty, slow but steady, and impossible to sink. Suddenly, Sunsin has a great idea.
Loosely based on Admiral Yi Sunsin and the Turtle War Ship (Keo-Book-Sun), debut author Helena Ku Rhee and debut illustrator Colleen Kong-Savage introduce young readers to a fascinating episode in Korean history and naval engineering.