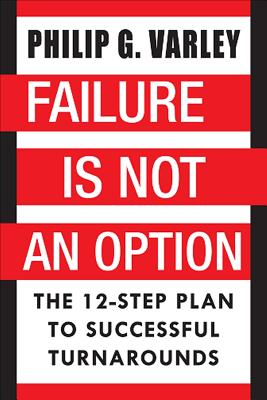 Failure Is Not an Option: The 12-Step Plan to Successful Turnarounds (Hardcover)
The 12-Step Plan to Successful Turnarounds
Mile High Press, 9781885331373, 234pp.
Publication Date: August 1, 2011
* Individual store prices may vary.
or
Not Currently Available for Direct Purchase
Description
Is Your Company Drowning?When you want your company to rebound from a downturn; to fly to greater heights; and to achieve success, Failure is Not An Option is the Operating Handbook to get you to your destination. It identifies the flight plan for you and your team to navigate the corporate hazards and keep you aloft..Do you want to increase your profits?.Do you want to stop overtime as an entitlement?.Are you annoyed by customers who don't pay?.Are you concerned that your travelers might be taking you for a ride?.Are your benefits costs too steep?If you answered yes to any of these questions, then Failure Is Not An Option is for you. When you are spending what you don't have because your growth projections are over optimistic and your cost assumptions are too low, and in today's economy, you cannot borrow to spend, you need Failure Is Not An Option to learn how to take a laser-like focus to every single line item in your company's P+L. The result is a successful turnaround.Start box.
Advertisement