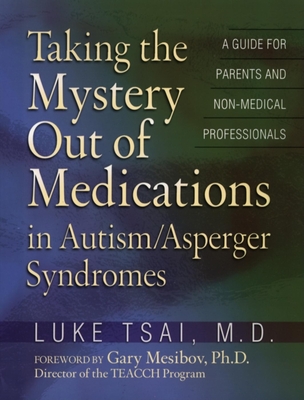 Taking the Mystery Out of Medications in Autism/Asperger's Syndrome (Paperback)
Future Horizons, 9781885477804
Publication Date: October 1, 2001
* Individual store prices may vary.
Description
Although medication should always be a last resort, many people on the autism spectrum claim that medication has improved their lives significantly. But how can a parent decide which meds to choose or which to stay away from? Written by a doctor and father to a child with autism, this book provides the answers that parents and non-medical professionals need. Dr. Luke Tsai explains what medication therapy is, and gives you the knowledge to make informed choices. Learn what different medications do in the body, their side effects, and how to properly assess the results. An extremely helpful appendix provides sample medical forms, diagnostic tools, and a detailed glossary that you will refer to time and time again.Helpful chapters include:
The Autism Spectrum
Your Right to Make Informed Decisions About Medication Therapy
Pre-Medication Treatment Assessment
General Principles of Medication Therapy
Monitoring Medication Therapy
Monitoring Side Effects
Development of New Medications
Psychotherapeutic Medications
Generic Drugs
Selecting Medications for Neuropsychiatric Disorders
About the Author
Luke Tsai, MD is a scholar, researcher, teacher and, most importantly, a father of a young man with autism. He received his medical degree from Taipei Medical University in Taiwan and completed his residency training in general psychiatry and fellowship in child and adolescent psychiatry at the University of Iowa Hospitals. Dr. Tsai is currently a professor of psychiatry and pediatrics at the University of Michigan Medical School. He also is founder and director of developmental disorders at the University of Michigan Medical Center. In addition, Dr. Tsai is consultant editor of the Journal of Autism and Developmental Disorders, is on the editorial board of Focus on Autistic Behavior, and on the Autism Society of America's Panel of Professional Advisors. Dr. Tsai has received awards and honors for his work with individuals with neuropsychiatric disorders. His publications include more than 80 articles and 40 books or chapters. He continues to be a sought-after speaker nationally and internationally.
Praise For Taking the Mystery Out of Medications in Autism/Asperger's Syndrome…
"Not only does this book reflect great clinical skills, but it also reflects the caring attitude Luke has always brought to his work. One feels throughout the book the deep concern and respect that this caring physician has for his clients. The human side o f medicine is part of every problem and solution, and parents and professionals in the field will especially appreciate this emphasis."

 
"The book is also extremely articulate and comprehensive, reflecting the intelligence, scholarship, and hard work that the author has always put into his professional activities. Many medical and scientific theories and practices will become much clearer as the reader progresses through this logically developed and clearly presented information. The amount of knowledge and detail that is contained in every page is indeed impressive."
From the foreword by Gary Mesibov, PhD, Professor and Director of TEACCH at the University of North Carolina at Chapel Hill


or
Not Currently Available for Direct Purchase