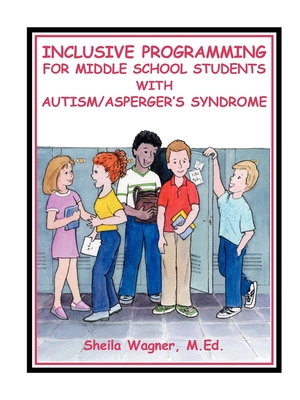 Inclusive Programming for Middle School Students with Autism
Paperback

* Individual store prices may vary.
Description
The winner of the ASA Book of the Year Award in 2001, Sheila Wagner's first book, Inclusive Programming for Elementary Students with Autism, was lauded by both the educational and autism communities. Now Ms. Wagner has turned her impressive talents and vast experience to inclusive programming in the challenging and sometimes difficult environment of middle schools. Teachers, parents and students alike will benefit from Ms. Wagner's insight and presentation as she outlines both theories and applications of inclusive programming for middle school students. Her engaging and readable style coupled with her extensive knowledge and classroom practice make this book indispensable for professionals and non-professionals alike.
Future Horizons, 9781885477842, 228pp.
Publication Date: October 1, 2001
About the Author
Sheila Wagner, M.Ed., received her undergraduate degree in Education from the University of Wisconsin, Whitewater, and her graduate degree in Special Education from Georgia State University. Past experience in autism began at the Indiana Resource Center for Autism at Indiana University where she was an associate teacher, then demonstration teacher in the autism demonstration program and, later, an educational consultant to teachers and schools across the State of Indiana under the tutelage of Nancy Dalrymple, the first of many mentors. Currently, Ms. Wagner is a private autism consultant, school consultant, teacher trainer, guest lecturer, and published author of numerous articles and books. Her books include Inclusive Programming for Elementary Students with Autism (1999), Inclusive Programming for Middle School Students with Autism/Asperger's Syndrome (2001), Inclusive Programming for High School Students with Autism and Asperger's Syndrome, and Understanding Asperger's: Fast Facts (2004). She also contributed a chapter to Asperger's and Girls (2006). She received the Autism Society of America's Literary Award for the book on inclusion in elementary schools, and was named the ASA's (Greater Georgia Chapter) Professional of the Year in 2002. Ms. Wagner lives in the Atlanta, Georgia area with her husband and son.