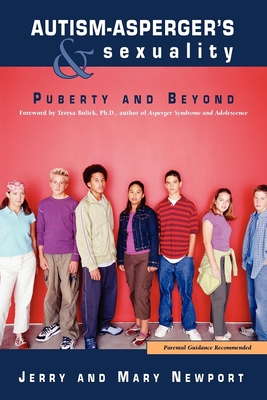 Autism-Asperger's & Sexuality (Paperback)
Puberty and Beyond
Future Horizons, 9781885477880, 168pp.
Publication Date: September 1, 2002
* Individual store prices may vary.
Description
Autism - Asperger's and Sexuality is a groundbreaking, personal look at the sexual challenges of those diagnosed with autism or Asperger's Syndrome. Authors Jerry and Mary Newport were both diagnosed with Asperger's Syndrome as adults. They spent much of their lives trying to be "normal" and never quite fitting in. Yet they beat the odds by becoming one of the few married couples with autism that have not only found love, but kept it alive. Their stories were the focus of the movie Mozart the Whale, starring Josh Hartnett and Radha Mitchell. Here they share their first-hand knowledge, helping to guide young autistic adults and their caregivers through this sometimes bewildering, but fascinating, topic.
About the Author
Jerry Newport was diagnosed with Asperger's when he was 47 years old. Now a popular international speaker, he is one of the foremost advocates on adult issues that impact people with autism / Asperger's Syndrome. Jerry's fascinating, touching, and often humorous perspective on living on the spectrum makes his books and presentations intriguing and informative. His story was even featured on "60 Minutes." Jerry has a BA in Mathematics from the University of Michigan, and was a financial assistant for the UCLA Department of Medicine. He has been active in the Autism Society of America and is responsible for starting and running Adult Group United and Autistic (AGUA), a support group for adults diagnosed with autism / Asperger's / PDD.

Mary Newport feels both challenged and blessed by Asperger's Syndrome. Her enthusiasm for life and head-on approach to challenges have enabled her to achieve success as an actress, composer, concert piano technician, gemologist, cosmetologist, and writer. Jerry and Mary live in Flagstaff, Arizona, and they hope their book will enrich your life, or the life of someone you love.
Praise For Autism-Asperger's & Sexuality: Puberty and Beyond…
"I will have my daughter with Asperger's read this immediately, particularly the chapter on abuse. She NEEDS this information."
Marianna Bond, Autism Chapter Leader

 
"I'm giving this to my 22-year-old son, and requiring my husband to read the chapter 'What Do Women Want?'"
Parent
 
"I think this book will be terrific for all of us with autism or Asperger's Syndrome!"
Lindsi Cavender, college student with Asperger's Syndrome