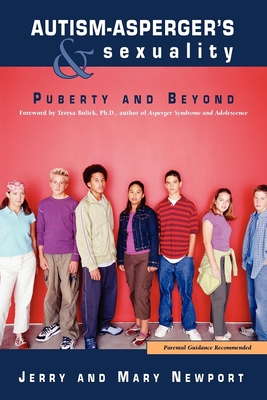 Autism-Asperger's & Sexuality
Puberty and Beyond
Paperback

* Individual store prices may vary.
Description
Many people on the spectrum never get "the talk" from their parents, and therefore suffer from "information deficit." This book goes a long way toward filling in the gaps in their knowledge. It takes a candid look at aspects of sex and relationships as they apply to people on the autism spectrum: building self-confidence, dating, personal grooming, cleanliness, and explicit advice on how to initiate sex with a partner. Also covered: avoiding pregnancy and STDs, dealing with rejection, how to build a loving relationship that includes sexual intimacy, and more. This is an everything-you-ever-wanted-to-know kind of book
Praise For Autism-Asperger's & Sexuality: Puberty and Beyond…
"I will have my daughter with Asperger's read this immediately, particularly the chapter on abuse. She NEEDS this information."
Marianna Bond, Autism Chapter Leader

 
"I'm giving this to my 22-year-old son, and requiring my husband to read the chapter 'What Do Women Want?'"
Parent
 
"I think this book will be terrific for all of us with autism or Asperger's Syndrome!"
Lindsi Cavender, college student with Asperger's Syndrome

 
Future Horizons, 9781885477880, 168pp.
Publication Date: September 1, 2002
About the Author
Jerry Newport was diagnosed with Asperger's when he was 47 years old. Now a popular international speaker, he is one of the foremost advocates on adult issues that impact people with autism / Asperger's Syndrome. Jerry's fascinating, touching, and often humorous perspective on living on the spectrum makes his books and presentations intriguing and informative. His story was even featured on "60 Minutes." Jerry has a BA in Mathematics from the University of Michigan, and was a financial assistant for the UCLA Department of Medicine. He has been active in the Autism Society of America and is responsible for starting and running Adult Group United and Autistic (AGUA), a support group for adults diagnosed with autism / Asperger's / PDD.

Mary Newport feels both challenged and blessed by Asperger's Syndrome. Her enthusiasm for life and head-on approach to challenges have enabled her to achieve success as an actress, composer, concert piano technician, gemologist, cosmetologist, and writer. Jerry and Mary live in Flagstaff, Arizona, and they hope their book will enrich your life, or the life of someone you love.