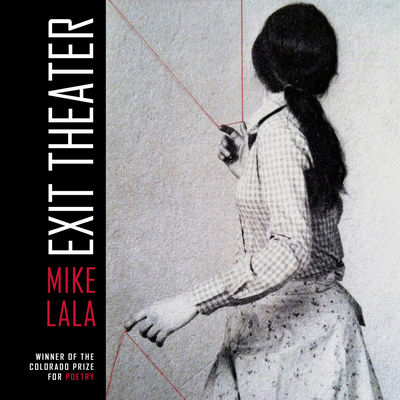 Exit Theater (Colorado Prize for Poetry) (Paperback)
Center for Literary Publishing, 9781885635532, 96pp.
Publication Date: November 1, 2016
* Individual store prices may vary.
Description
Published by the Center for Literary Publishing at Colorado State University
Winner of the 2016 Colorado Prize for Poetry

Selected by Tyrone Williams for the 2016 Colorado Prize for Poetry, Exit Theater casts classical elegy, with dazzling formal innovation, into a staggering work of contemporary, political polyphony. Through monologues, performance scripts, and poems of exquisite prosody, Mike Lala examines the human figure—as subject and object, enemy and ally—in the context of a progressively defigured and hostile world. Catullus, Shakespeare, Cy Twombly, and Lydia Delectorskaya echo across engagements with Israeli generals, accused terrorists, State Department employees, nuclear scientists, Saturday Night Live actors, war criminals, malware, and a host of mythic, literary, and half-extant spectral characters. Amid the cacophony, Lala implicates every actor, including himself, in a web of shared culpability vis-à-vis consumerism, representation, speaking, writing, and making art against the backdrop of the endless, open wars of a post–Cold War, post-2001 era. Exit Theater is a debut of and against its time—a book about war, art, and what it means to make art in a time of war. 
About the Author
Mike Lala is a poet who works with text, recorded sound, and, occasionally, images. His work has appeared in Boston Review, Fence, the Brooklyn Rail, Denver Quarterly, Jubilat, the Awl, and Volt, as well as several chapbooks, most recently In the Gun Cabinet (The Atlas Review, 2016) and Twenty-Four Exits (A Closet Drama) (Present Tense Pamphlets, 2016). He holds a BA from Michigan State University and an MFA from New York University, where he was a Veterans Writing Workshop Fellow. He lives in New York. www.mikelala.com
Praise For Exit Theater (Colorado Prize for Poetry)…
"In Exit Theater Mike Lala turns away, turns from, turns to his iPhone, to Cy Twombly, to Catallus, but there is no exit from the maze of the world that is in 'our time,' as Hemingway knew, a gun cabinet. And every gun is a life, standing at attention and loaded, as Dickinson knew. In these lyrical meditations crisscrossing the fields of personal, national, and international histories, strewn with bodies, Lala confronts, without flinching, the terrible beauties born of fin de siècle pessimism and optimism: we remain in the closet."
—Tyrone Williams, final judge
 
"This is a remarkable book—sprawling, generous, angry, delicate. Through borrowed language and staged dialogues, 
Exit Theater
 asks how individual experiences of violence combine with myth to create the collective present, where we peer out from the 'gun cabinet.' A gun cabinet is a scary place from which to act as friend, to act as lover, to talk to family ghosts. Lala's book tears open the velvet cushioning."
—Cathy Wagner
"Michael Lala's 
Exit Theater
 deals mystery and suspense. This poet is expert at revealing the personal alongside the public through a language that's intimate, searching, and uniquely his. The reader becomes an apt detective, ready to sift through imagistic and verbal evidence where the everyday and fantastic coexist. 
Exit Theater
 is indeed a challenging and seductive journey into an inner sanctum of reveries."
—Yusef Komunyakaa
"[A]n elegiac debut collection meant to be beheld and enacted. This provocative book is designed as an immersive experience, featuring verse that can be classified as poetry only in that it announces itself as such: this is performance, myth creation, and rally cry. In his understated confrontations with forms of societal violence—militarism, climate change, economic collapse—Lala attends to the musicality of language, seductively contrasting the lush with the sparse​. . . . This a dense and challenging yet rewarding read; Lala engages with playful structural elements as he experiments with alternate means of interrogation and representation.​"​
—Publishers Weekly
"The whole book is a marvel of genre-straining performances, all of which complicate distinctions between reader and text. . . . 
Exit Theater 
raises our awareness of how we make meaning and dodge responsibility. It doesn't read like an imperious indictment, but asks us to reexamine, along with the text, our assumptions about our surroundings."—Fanzine​
"Lala's book manifests these cumulative senses of our time, the dull, buzzing inescapable ache that arises when the weapons have come off the stage and constitute the real. . . . [Exit Theater] ultimately stages a new question, perhaps an inevitable question, for aesthetic work in these times of violence: what happens when Chekhov's gun becomes a drone, a melting ice cap, a toxic algae bloom?"
—Jacket2