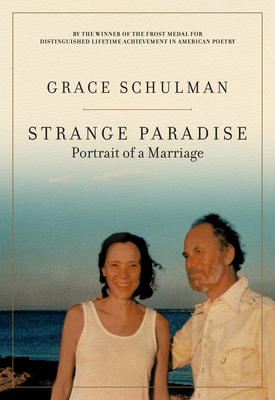 Strange Paradise (Paperback)
Portrait of a Marriage
Turtle Point Press, 9781885983527, 224pp.
Publication Date: August 21, 2018
* Individual store prices may vary.
Description
A New York Times Book Review New & Noteworthy Selection
"Grace Schulman makes me want to live to be four hundred years old, because she makes me feel there is so much out there, and it's unbearable to miss any of it."--Wallace Shawn
Grace Schulman is an award-winning poet and the author of seven collections of poems. She has had long posts as Poetry Editor of the
Nation
magazine, Director of the Poetry Center at the 92nd Street Y, and Distinguished Professor at CUNY's Baruch College, where she still teaches. But her love for her scientist husband and her care for him through his long illness proved to be among her greatest inspirations. It called forth her deepest grief at his loss. How did Schulman maintain the independence, solitude, and freedom she required within the bounds of marriage? And what made her marriage endure through a decade of living apart? "In my experience, the phrase 'happy marriage' is a term of opposites, like 'friendly fire' or 'famous poet.' My marriage has been a feast of contradiction . . . "
Strange Paradise
looks at this, Schulman's remarkable career, her friendships with great writers, her work as an historic impresario at the Y, her religious and philosophical leanings, and her grand love affair with New York--all in her magical prose.
About the Author
Grace Schulman is an acclaimed poet, most recently recipient of the Frost Medal for Distinguished Lifetime Achievement in American Poetry, the highest award of the Poetry Society of America. Among her other honors are the Aiken Taylor Award for poetry, the Delmore Schwartz Memorial Award, a Guggenheim Fellowship, New York University's Distinguished Alumni Award, a Fellowship from the New York Foundation for the Arts, and four Pushcart Prizes. Schulman is the author of seven collections of poems, including Without a Claim, her most recent, and Days of Wonder: New and Selected Poems, a Library Journal Best Books of the Year. Her prose essays are collected in First Loves and Other Adventures, and she is editor of The Poems of Marianne Moore. Schulman is former director of the Poetry Center, 92nd Street Y, and former poetry editor of the Nation. She is Distinguished Professor of English at Baruch College, CUNY.