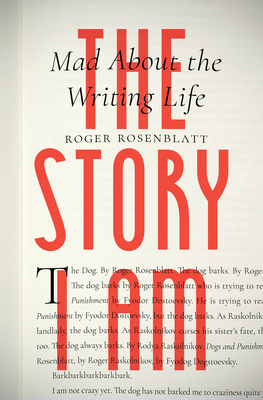 The Story I Am (Paperback)
Mad about the Writing Life
Turtle Point Press, 9781885983787, 262pp.
Publication Date: April 7, 2020
* Individual store prices may vary.
Description
"This is a gorgeous book, one that will inspire anyone to make the next sentence."--Jericho Brown
Roger Rosenblatt has always been "mad about the writing life." In this new collection, he shares the stories and insights about writing that have inspired him, as a journalist, a columnist for
The Washington Post
, an essayist for
Time
magazine and
The New Republic
, and then as the author of best-selling books like
Making Toast, Rules for Aging, Kayak Morning
, and
Unless It Moves the Human Heart
. The new and beloved pieces in
The Story I Am: Mad About the Writing Life
, drawn from his vast body of work, celebrate the art, the craft, and the soul of writing.
Here are essays and excerpts on the rewards and punishments of the life of a writer, along with thoughts on how to write, what to write, and why writing lies at the heart of human hope and experience. Reviewing Rosenblatt's memoir The Boy Detective in the New York Times Book Review, Pete Hamill said Rosenblatt "writes the way a great jazz musician plays, moving from one emotion to another." For Rosenblatt, writing, like jazz, is the art of improvisation. Rosenblatt writes that "Writing makes justice desirable, evil intelligible, grief endurable, and love possible." In a nutshell, it's worth a life.
About the Author
Roger Rosenblatt is the author of five New York Times Notable Books of the Year, and three Times bestsellers. He has written seven off-Broadway plays, and the movie adaptation of his bestselling novel, Lapham Rising, starring Frank Langella and Stockard Channing, is scheduled for release in 2020. His essays for Time magazine and the PBS NewsHour have won two George Polk Awards, the Peabody, and the Emmy, among others. In 2015, he won the Kenyon Review Award for Lifetime Literary Achievement. He held the Briggs-Copeland appointment in the teaching of writing at Harvard. He is Distinguished Professor of English and Writing at SUNY Stony Brook/Southampton.