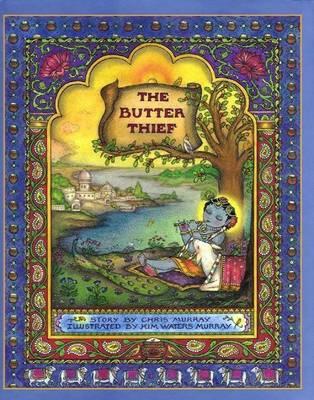 The Butter Thief
Hardcover

* Individual store prices may vary.
Description
In The Butter Thief, the unconditional love of a parent for a child is exhibited by Mother Yasoda for Krishna. This enchanting story captures children's imaginations as they lose themselves in the serene world of Vrindavana, the land of Krishna. Kim Waters' illustrations are full of wonderful detail and illuminate the magic of this famous story from the Bhagavat Purana.
Insight Kids, 9781886069206, 32pp.
Publication Date: February 23, 1999
About the Author
Chris Murray, founder and director of Govinda Gallery in Washington, D.C., has organized more than two hundred exhibitions of many leading artists and edited a number of books on music and photography. Since 1995, Murray has featured Wertheimer's work in

Kim's distinctive paintings and illustrations draw freely from Indian spiritual imagery, Persian miniature painting, Medieval and Renaissance illumination, Celtic folklore and Victorian book design. Her unique combination of Western alchemical symbols and intricate borders introduces the viewer to a rich and intruiging fantasy world. Kim Waters has produced major works with her voluminous Illuminations from the Bhagavad Gita; The Butter Thief; Enchanted Tales, and numerous book illustrations and private commissions.