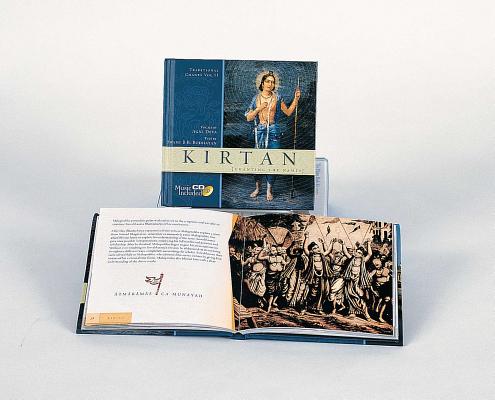 Kirtan (Hardcover)
Chanting the Names
Mandala Publishing, 9781886069787, 88pp.
Publication Date: November 5, 2002
* Individual store prices may vary.
Description
The follow-up to the critically acclaimed Smaranam, Kirtan offers a provocative contemporary rendering of chants from India's Bhakti tradition in the lively call-and-response style. Focusing on songs penned by West Bengali saints Narottam Das Thakur and Bhaktivinode Thakur, Agni Deva's sixth release couples traditional chants with the tasteful accompaniment of sarangi, tablas, mrdanga, kartals, harmonium, cello and sitara. Guest instrumentalist Hans Christian of Rasa adds breathtaking musical refinement that lends new spirit to these timeless classics. Kirtan tells the story of Chaitanya Mahaprabhu, who inaugurated the congregational chanting movement, or sankirtan, as a means for attaining love of God in the present age. Chaitanya brought about a renaissance in the bhakti yoga tradition, the effects of which still resound today in modern yoga schools and spiritual communities.
About the Author
Swami B.B. Bodhayan is the current President and Acharya of the Gopinath Gaudiya Math, where he succeeded his spiritual master, Swami B.P. Puri. He was given the birth name Asim Das on August 21, 1964 in the village of Kanpur, West Bengal. Swami Bodhayan joined the Gopinath Gaudiya Math in 1990, where he took on much of the responsibility for managing its affairs. Over the years he helped open branch maths at Chakra Tirtha in Jagannath Puri and in Vrindavan, as well as publish the organization's monthly journal Bhagavata-dharma, to which he also contributed regularly. On Gaura Purnima 1997, Puri Maharaj designated Swami Bodhayan to be the president and acharya of the Gopinath Gaudiya Math. Since then he has applied himself energetically to teaching the message of Sri Caitanya Mahaprabhu, following in the footsteps of his spiritual master and Bhaktisiddhanta Saraswati Thakur.
or
Not Currently Available for Direct Purchase