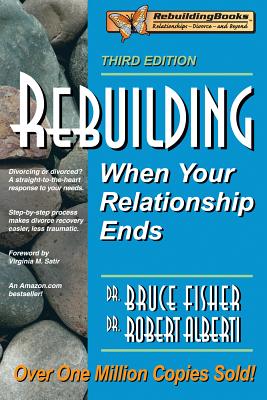 Rebuilding (Paperback)
When Your Relationship Ends
Impact Publishers, 9781886230699, 290pp.
Publication Date: November 1, 1999
Other Editions of This Title:
Paperback (1/1/2000)
* Individual store prices may vary.
Description
How does he know exactly what I m feeling? That's the most-heard reader comment about this one million copy bestseller by internationally-renowned divorce therapist Bruce Fisher. Rebuilding features Fisher's divorce process rebuilding blocks, a proven nineteen-step process for putting one's life back together after divorce. Clearly the most widely-used approach to divorce recovery, the rebuilding model makes the process healthier and less traumatic for those who are divorcing or divorced and their children. Over two decades of research and practice are combined with feedback from hundreds of thousands of men and women who have used the book on their own or in one of thousands of Fisher divorce recovery seminars worldwide. Also includes Bruce's detailed Healing Separation model first of its kind to offer couples a healing alternative to the usual slide from separation to divorce. The 3rd edition, revised with the assistance of psychologist and marriage and family therapist Dr. Robert Alberti, continues Bruce's tradition of straight-to-the-heart response to the needs of his clients and readers. Just the right balance of shoulder-to-cry-on and kick-in-the-pants self-help
About the Author
Bruce Fisher, EdD (1931-1998) developed the rebuilding model of divorce recovery nearly 35 years ago. Founder and director of the Family Relations Learning Center (Boulder, Colorado), he personally trained thousands of individuals and therapists in this approach, enriching the lives of hundreds of thousands worldwide. Popular divorce therapist, author, teacher, clinical member of the American Association for Marriage and Family Therapy.Robert E. Alberti, PhD, is a psychologist, marriage & family therapist, Fellow (Psychotherapy) of the American Psychological Association, clinical member of the American Association for Marriage and Family Therapy, publisher, and author/co-author of several books. His work has received international recognition as the "gold standard" for psychological self-help."
or
Not Currently Available for Direct Purchase