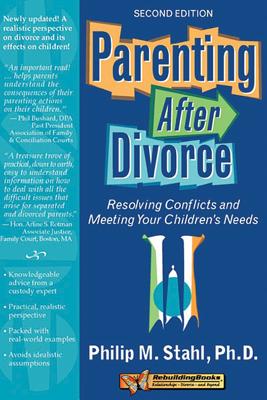 Parenting After Divorce (Paperback)
Resolving Conflicts and Meeting Your Children's Needs (Rebuilding Books)
Impact, 9781886230842, 194pp.
Publication Date: October 1, 2007
* Individual store prices may vary.
Description
"Your divorce doesn't have to damage your children..., " Stahl assures, " ... especially if you limit your children's exposure to your conflicts." He knows parents are not perfect, and he uses that knowledge to show imperfect parents how to settle their differences in the best interests of the children. This revised and updated second edition features ideas from the latest research, more information on long-distance parenting, dealing with the courts, and working with a difficult co-parent. A realistic perspective on divorce and its effects on children, Parenting After Divorce features knowledgeable advice from an expert custody evaluator. Packed with real-world examples, this book avoids idealistic assumptions, and offers practical help for divorcing parents, custody evaluators, family court counselors, marriage and family therapists and others interested in the best interests of the children.
About the Author
Philip M. Stahl, PhD, is a Board-Certified forensic psychologist specializing in high conflict divorce. Dr. Stahl conducts continuing education training for psychologists, attorneys, judges, and evaluators who work with these families. He teaches and has written extensively in the area of custody evaluations and divorce; his latest work (2013) from the American Bar Association Section of Family Law, Forensic Psychology Consultation in the Child Custody Litigation: A Handbook for Work Product Review, Case Preparation and Expert Testimony, is co-authored by Robert A. Simon, PhD. His prior books include Complex Issues in Custody Evaluations and Conducting Child Custody Evaluations: A Comprehensive Guide. Dr. Stahl resides in Arizona.