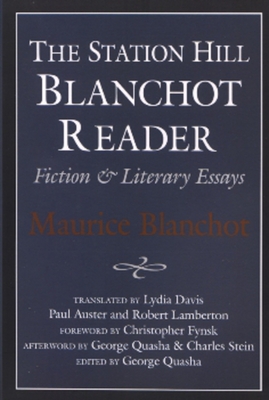 Station Hill Blanchot Reader (Paperback)
Barrytown Limited, 9781886449176, 554pp.
Publication Date: February 1, 1995
Description
This essential reader from Station Hill (Blanchot's longtime publisher in the United States) is six books in one, and the first and only collection of Maurice Blanchot's celebrated fiction and critical/philosophical writing. Regarded both on the European continent and in America as one of the truly great authors of French Post-Modernism, Blanchot's reputation and readership in English has already established him as a modern classic. The Blanchot Reader brings together a substantial collection of critical and philosophical writings (The Gaze of Orpheus) and the only edition in print in English of his major works of fiction (Thomas the Obscure, Death Sentence, Vicious Circles, The Madness of the Day, When the Time Comes and The One Who Was Standing Apart From Me). General readers and students alike will seek out these essential works by the writer Susan Sontag referred to as an unimpeachably major voice in modern French literature. Maurice Blanchot is now recognized as a major twentieth century philosopher whose influence extends to the works of Derrida, Foucault, Levinas, Lacan and others.
Advertisement