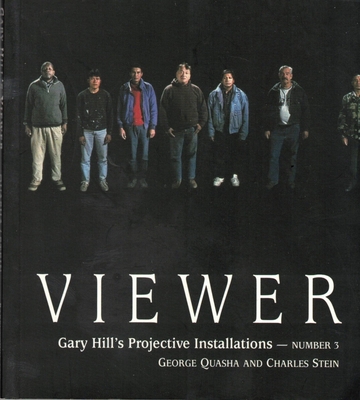 VIEWER (Paperback)
Gary Hill Projective Installation #3
Barrytown/Station Hill Press, Inc., 9781886449503, 96pp.
Publication Date: August 8, 1997
* Individual store prices may vary.
Description
Haunting and strangely provocative new installations by artist Gary Hill, celebrated worldwide in major museums and galleries, are introduced through a highly readable essay by two of the artist's long-time poet/artist collaborators. In a sort of lineup, seventeen day-workers, full-size, stare at you from the wall, eerily present by the magic of video-projection (Viewer). A solitary Native American stares you in the eyes, while he stares at himself from an adjacent wall-then the projections switch position: the watcher becomes the watched and the watched becomes the watcher (Standing Apart). This third in an ongoing series of the Quasha & Stein dialogue on Gary Hill is beautifully illustrated in full color to give a living sense of the actual installations.
About the Author
George Quasha is the co-founder of Barrytown/Station Hill Press. He is a poet and artist who works across mediums to explore principles in common within language, sculpture, drawing, video, sound, installation, and performance. His awards include a National Endowment for the Arts Fellowship in poetry (1975), and a John Simon Guggenheim Foundation Fellowship in video art (2006).
Stein is author of thirteen books including a translation of The Odyssey; a vision of the Eleusinian Mysteries, Persephone Unveiled; a study of poet Charles Olson, The Secret of the Black Chrysanthemum; and a study of Gary Hill, The Art of Limina. He holds a Ph.D. from the University of Connecticut and lives in Barrytown, New York. For more, www.charlessteinpoet.com.