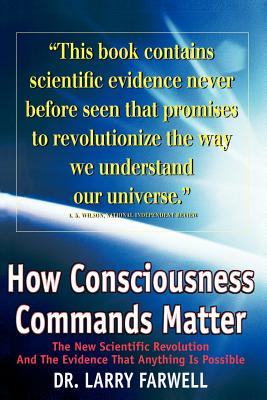 How Consciousness Commands Matter (Paperback)
The New Scientific Revolution and the Evidence That Anything is Possible
Sunstar Publishing (IA), 9781887472241, 208pp.
Publication Date: October 19, 1999
* Individual store prices may vary.
Description
This book will inspire you to question what you've heard from the scientific experts about how the universe works and what role we play in it. For centuries, science has believed that matter is king, and the job of scientist is to measure interactions of matter, not consciousness. Based on revolutionary new developments in physics and neuroscience, including his own groundbreaking research, Dr. Farwell challenges this view. Using impeccable scientific techniques, he has proven in the laboratory that consciousness plays a commanding role in the universe. Dr. Larry Farwell (Bio) Dr. Larry Farwell is a Harvard educated former Harvard faculty member who is currently chief scientist of the Human Brain Research Laboratory. As a neuroscientist, he has conducted and published pioneering research on the interaction of consciousness and matter at the quantum-mechanical level. The well-known physicist Dr. George Farwell (his father) collaborated in this research. Dr. Larry Farwell invented a direct brain-to-computer communication system using electrical brain activity. He discovered the technique of Brain Fingerprinting to identify criminals and clear innocent suspects by measuring brain-wave responses to relevant words or pictures presented on a computer screen. CBS Evening News, ABC World News, CNN Headline News, the Discovery Channel, the New York Times, the Washington Post, US News and World Report, and television, radio, newspapers, and magazines throughout the world have featured Dr. Farwell and his discoveries. Dr. Farwell's personal philosophy is that anything is possible. He sees his scientific research as a process of discovering the unlimited possibilities available for human life. He believes that the goal of life is the full development and complete integration of mind, heart, body, and spirit. In addition to his BA, MA, and PhD in neuroscience, he is a qualified Transcendental Meditation teacher and has a black belt in kung fu.
or
Not Currently Available for Direct Purchase