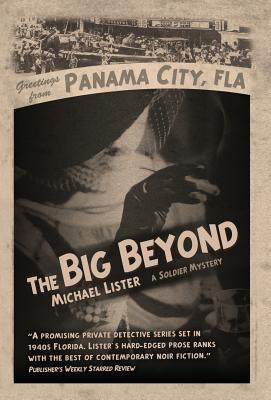 The Big Beyond (Hardcover)
Pulpwood Press, 9781888146332, 228pp.
Publication Date: January 30, 2013
Other Editions of This Title:
Paperback (4/12/2013)
* Individual store prices may vary.
Description
"Lister's hard-edged prose ranks with the best of contemporary noir fiction." Publisher's Weekly Starred Review of The Big Goodbye. History, Mystery, and Romance Walk the mean streets of wartime Panama City with Jimmy "Soldier" Riley, a wounded, woman-haunted knight errant in Michael Lister's resonant new noir series Publisher's Weekly calls "a promising private detective series set in 1940s Florida," and Library Journal says "peppered with snappy dialog, this hard-boiled mystery by award winner Lister is a swell read." What really happened to Soldier and Lauren the night they left town? Did they survive? Will their love? What comes after saying the big goodbye? Is there anything out there in the big beyond? Someone's trying to kill PI Jimmy "Soldier" Riley. And he's inclined to let them. But before sleeping the big sleep and journeying to the undiscovered country to discover what dreams may come, there's blood work to be done. Picking up right at the thrilling conclusion of The Big Goodbye, The Big Beyond finds Soldier near death with one hell of a big score to settle and more than a few injustices to square along the way-all while searching wartime Panama City for a dangerous serial killer who combines art and murder. Stylish, retro, and highly entertaining, Michael Lister's The Big Beyond continues the romantic, mysterious, adventures of one of the most interesting and compelling classic hard-boiled detectives to come along in a very, very long time.