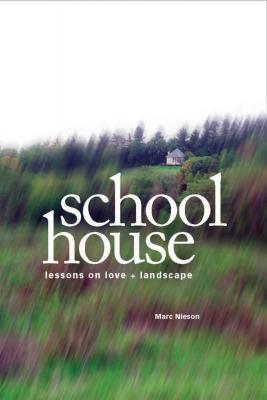 Schoolhouse (Paperback)
Ice Cube Press, 9781888160925
Publication Date: October 1, 2016
* Individual store prices may vary.
Description
'SCHOOLHOUSE: Lessons on Love & Landscape' Imagine Walden recast as a love story. This intimate memoir opens with its Brooklyn-born narrator standing on his head outside an old one-room schoolhouse amid 500 acres of remote woodlands in Iowa - on the lam from a love affair gone sour and a myopic past. Structured like a schoolbook, each chapter is named after a school subject (i.e. Geography, Civics, Anatomy, What I Did On My Summer Vacation ...), which collectively forms an overall lesson plan for the author's personal reeducation. Turns out the Midwestern Heartland won't allow him to hide out forever. SCHOOLHOUSE is a modern day search for where identity, place, and heart all intersect. A Waldenesque study in both nature and human nature.
About the Author
Marc Nieson is a graduate of the Iowa Writers' Workshop and NYU Film School. His background includes children's theatre, cattle chores, and a season with a one-ring circus. His memoir, Schoolhouse: Lessons on Love & Landscape is just released from Ice Cube Press. He's won a Raymond Carver Short Story Award, Pushcart Prize nominations, and been noted in Best American Essays. He teaches at Chatham University, edits fiction for The Fourth River, and is at work on a new novel, Houdini's Heirs.
Praise For Schoolhouse…
"Marc Nieson explores the evolution of his younger self with bracing intelligence and talent. Schoolhouse is full of incidental wisdom and glittering moments-—dissecting an owl pellet, watching the mist rise-—that will stay with the reader long after the author reaches his destination. A wonderful debut."—Margot Livesey, author of Mercury

"Marc Nieson's Schoolhouse is a record of wisdom and tenderness, and also a record of spiritual and emotional growth. Intelligent, wary, and observant, the narrator of this chronicle gradually lets us see into his heart and soul. It's a fine and wonderful book, beautifully written."—Charles Baxter, author, The Soul Thief and The Feast of Love

"Marc Nieson knows full well how a lost relationship can both hurt and nourish one into being. In Schoolhouse, he has given us a remarkable book, light, grave, tender, unsettled, and wide, wide open to the mystery of letting go."—Paul Lisicky, author, The Narrow Door

"Marc Nieson's Schoolhouse: Lessons on Love & Landscape is a thoughtful, engaging meditation on memory and place, fertile with striking and intimate detail of one man's early love affair and the lessons learned. A compelling story woven from whispered secrets, Nieson's book is a true gem of the memoir form."
–Dinty W. Moore, author, Between Panic & Desire

"Those of us who have lived in old one-room schoolhouses understand the solitude, solace, and proximity to nature that they provide. During his year living in Union #9, Marc Nieson embraced these opportunities for inner growth. His new memoir—a must read—traces the story of his journey of discovery along the trail through the woods surrounding his house and along the path of human relationships. Read Schoolhouse, and you will open the door to the mind of an engaging voice, a probing, reflective writer who delights the reader with his lyrical prose on every page."
—Mary Swander, author, Out of this World: A Woman's Life Among the Amish

"Years ago, I wrote: How does one paint a landscape of identity? Marc Nieson resoundingly answers that question in Schoolhouse, a remarkable memoir of love and landscape as well as a courageous narrative about writing and identity. One of the most poignant and beautiful memoirs I have read in decades … a collage of memories, place, and people … a memoir of fortitude and hope."—Marjorie Agosín, author, The White Islands and Of Earth & Sea: A Chilean Memoir

"There are life lessons aplenty in this gorgeous meditation on youth, love, and trying to find an anchor in the world. A book that should be widely read and appreciated for its insights and beauty, Schoolhouse utterly absorbed me in the lost world it creates and honors."
—Robin Hemley, author, Nola: A Memoir of Faith, Art, and Madness

"Toward the end of his memoir, Nieson says, 'We are all of us, to some extent, descendants of ice.' In this book, we begin to thaw."—Diane Glancy, author, Fort Marion Prisoners and the Trauma of Native Education