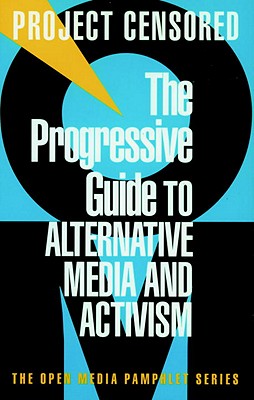 The Progressive Guide to Alternative Media and Activism (Paperback)
Seven Stories Press, 9781888363845, 144pp.
Publication Date: May 4, 1999
* Individual store prices may vary.
or
Not Currently Available for Direct Purchase
Description
The independent media are arguably more important than ever today, as corporate media's line reads increasingly like a government press release rather than a free society's analysis of the day's important events. But there's a lot to sort through: Independent newsmagazines and newspapers, local cable-TV access, and independent and microtransmitted radio are everywhere, offering a vast array of news, opinions, and information. New Indymedia activists alone now have direct links to more than sixty-five grassroots news sites around the world. The challenge we are faced with is two-fold: We must make these news sources widely accessible, but we must also find ways to compile, sort, and collectively release this real news to millions of people—a project that this invaluable guide for diversifying your access to information can make much more achievable.
About the Author
PROJECT CENSORED, founded in 1976 by Carl Jensen at Sonoma State University, has as its principal objective the advocacy for and protection of First Amendment rights, including freedom of information. In 2008, Project Censored received the PEN/Oakland Literary Censorship Award. Most recently, Project Censored received the 2014 Pillar Award in Journalism and New Media, given annually to persons of conscience, conviction, and achievement who stand up for what's right and what's true in the face of corporate and political intimidation. For more information, visit www.projectcensored.org.
Advertisement