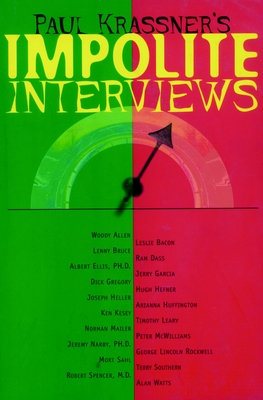 Impolite Interviews (Paperback)
Seven Stories Press, 9781888363920, 340pp.
Publication Date: September 7, 1999
* Individual store prices may vary.
or
Not Currently Available for Direct Purchase
Description
Krassner's Impolite Interviews delivers 21 of the most compelling encounters you will ever witness, from a 1959 interview with author Alan Watts to Timothy Leary in 1995 just weeks before he died, from Norman Mailer talking about sex to Jerry Garcia recounting what it was like to play the Pyramids. Each interview gives a unique take on major issues: Communism, segregation, the Cold War, the sexual revolution, the drug culture, by major personalities. Impolite Interviews presents perspectives as diverse as George Lincoln Rockwell (then head of the American Nazi Party) and spiritual master Ram Dass. Krassner offers readers an illuminating look at some of the most important figures of the second half of this century through the eyes of one of this era's most innovative journalists.
About the Author
PAUL KRASSNER cut his teeth as a journalist at Mad magazine, worked with Lenny Bruce, and with Abbie Hoffman and Jerry Rubin founded the Yippies. In 1958 he founded the satirical magazine The Realist and has published it discontinuously ever since. His autobiography, Confessions of a Raving, Unconfined Nut: Misadventures in the Counter-Culture, was published by Simon & Schuster in 1994. More recently, The Winner of the Slow Bicycle Race, a collection of his best satire, was published by Seven Stories Press in 1996. His album We Have Ways of Making You Laugh is available from Mercury Records. He lives in Venice, California with his wife Nancy.
Advertisement