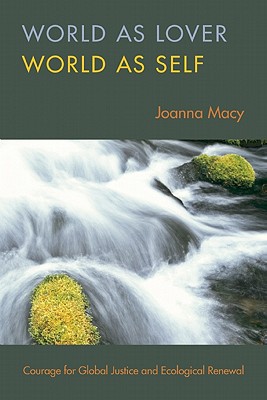 World as Lover, World as Self (Paperback)
A Guide to Living Fully in Turbulent times
Parallax Press, 9781888375718, 208pp.
Publication Date: October 9, 2003
Other Editions of This Title:
Paperback (3/16/2021)
* Individual store prices may vary.
Description
This overview of Joanna Macy's innovative work combines deep ecology, general systems theory, and the Buddha's teachings on interdependent co-arising. A blueprint for social change, World as Lover, World as Self shows how we can reverse the destructive attitudes that threaten our world, with concrete suggestions on how to address "An Inconvenient Truth".

The essays are based on the Buddha's teachings of "Paticca samuppada" (interdependent co-arising). Reduced to deceptively simple terms this says that everything in the world- every object, feeling, emotion, and action is influenced by a huge, all-inclusive web of factors. Any change in the condition of any one thing in this web affects everything else by virtue of interconnectedness. It makes World as Lover World as Self a quintessential guide for those readers who want to integrate their Buddhist practice with concerns for social issues like global warming. It also breaches the dualities that have haunted much of both Eastern and Western thought, namely the dichotomies between mind/body, humanity/nature, reason/emotion, self/world, science/spirituality.

The premise is that self-centeredness, and modern individualisms are ultimately destructive for the environment. We are not individuals separate from the world. Instead we are always "co-arising" or co-creating the world, and we cannot escape the consequence of what we do to the environment. Joanna Macy presents a re-focusing on the beauty of the natural world as personally nourishing and replenishment as one way to move away from our self-centeredness. For this revised edition the author will be adding some chapters as well as removing others. The new ones will deal largely with her new work around the "Great Turning" that will add a somewhat more visionary, future-oriented, and strategic dimension to the book. World as Lover, World as Self shows us how to realize that the earth is an extension of ourselves and how to discover the knowledge, authority and courage to respond creatively to the crises of our time. Foreword Thich Nhat Hanh
About the Author
Eco-philosopher Joanna Macy, Ph.D., is one of the best known spiritual activists in this country. She is a scholar of Buddhism, general systems theory, and deep ecology. A respected voice in movements for peace, justice, and ecology, she interweaves her scholarship with four decades of activism. Her wide-ranging work addresses psychological and spiritual issues of the nuclear age, the cultivation of ecological awareness, and the fruitful resonance between Buddhist thought and contemporary science. Her group methods have been adopted and adapted widely in classrooms, churches, and grassroots organizing. Her work helps people transform despair and apathy, in the face of overwhelming social and ecological crises, into constructive, collaborative action. The author of 10 previous books Mrs. Macy travels widely giving lectures, workshops, and trainings in the Americas, Europe, Asia, and Australia. She lives in Berkeley, California.
Praise For World as Lover, World as Self: A Guide to Living Fully in Turbulent times…
Praise for Joanna Macy

"This book ... invites readers into a thriving community of people who, like me, have been transformed by Joanna Macy's thought and practice." --Naomi Klein, author of On Fire: The Burning Case For a Green New Deal

"She was an environmentalist before that term was on every tongue.... Joanna Macy has come to embody a singular clarity of vision about the totality of what it means to be human--at this moment in time. Her wild love for the world is a beacon to us all." --Krista Tippett, host of On Being

"Joanna Macy is one of the planet's treasures." --Bill McKibben, author of Falter: Has the Human Game Begun to Play Itself Out?
or
Not Currently Available for Direct Purchase