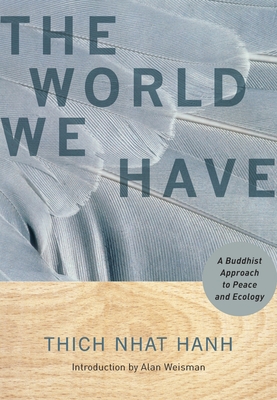 The World We Have
A Buddhist Approach to Peace and Ecology
Paperback

* Individual store prices may vary.
Other Editions of This Title:
Paperback, Large Print (10/21/2008)
Description
In this provocative book, noted Buddhist teacher Thich Nhat Hanh offers a dramatic vision of the future of a planet overheated by rapidly disappearing fossil fuels, degraded by massive overconsumption, and besieged by unsupportable population growth. Hanh finds answers to these critical problems in the Buddhist teaching of the impermanence of all things. He demonstrates how this teaching can offer inner peace and help us use our collective wisdom and technology to restore the Earth's balance. Mixing inspiring insights with practical strategies, Hanh cites projects his own monastic community has undertaken that can serve as models for any community. Both his " No Car Day," observed once a week, and the "Earth Peace Treaty Commitment Sheet" can impact our ecological footprint on the Earth. Above all, he shows how acceptance of problems is that first critical step toward a deeper understanding of the best way to care for our Earth.

Includes Thich Nhat Hanh's speech at UNESCO from October 2006 introducing his proposal for a global "No Car Day."

Foreword by Alan Weisman.
Parallax Press, 9781888375886, 110pp.
Publication Date: August 9, 2004
About the Author
Thich Nhat Hanh is one of the most revered Zen teachers in the world today. His best-selling books include Happiness and Peace Is Every Step. He lives in Plum Village in southwest France,his meditation and retreat center in France, where he teaches the art of mindful living.

Alan Weisman is the author of five books, including The World Without Us, an international bestseller translated into more than thirty languages, and Gaviotas: A Village to Reinvent the World. His reports from around the world have appeared in Harper's, The New York Times Magazine, The Atlantic Monthly, The Los Angeles Times Magazine, Orion, Wilson Quarterly, Mother Jones, Discover; and on National Public Radio and in Best American Science Writing. He is a senior radio producer for Homelands Productions, and leads an annual field program in international journalism at the University of Arizona, where he is Laureate Professor in Journalism and Latin American Studies. He and his wife, sculptor Beckie Kravetz, live in western Massachusetts.