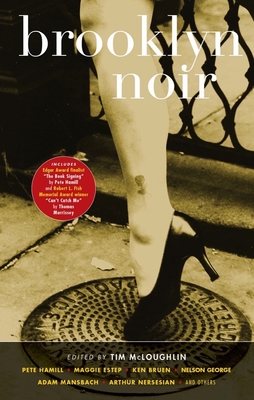 Brooklyn Noir
Paperback

* Individual store prices may vary.
Description
Brooklyn Noir is on fire It is an Edgar Award finalist for The Book Signing by Pete Hamill; winner of the MWA's Robert L. Fish Memorial Award for Can't Catch Me by Thomas Morrissey; a Shamus Award finalist for Hasidic Noir by Pearl Abraham; a Pushcart Prize finalist for Practicing by Ellen Miller; an Anthony Award finalist for Hunter/Trapper by Arthur Nersesian; an Anthony Award finalist for Best Cover Art. Brooklyn Noir stories When All This Was Bay Ridge by Tim McLoughlin and Case Closed by Lou Manfredo have both been selected for Best American Mystery Stories 2005 edited by Joyce Carol Oates and Otto Penzler. A collection of crime stories set in different Brooklyn neighborhoods, edited by Mr. McLoughlin...The stories are set far and wide in the borough, from Red Hook to Bushwick to Canarsie...Brooklyn has always occupied a special place in the imagination of America writers, who have been captivated by its raffishness.
--New York Times An] anthology of 19 brand new hard-boiled and twisted tales, each set in a different Brooklyn neighborhood...the best stories concern people in the present coming to terms with the past.
--Publisher's Weekly New York's punchiest borough asserts its criminal legacy with brand-new stories from a magnificent set of today's best writers. Brooklyn Noir moves from Coney Island to Bedford-Stuyvesant to Bay Ridge to Red Hook to Bushwick to Sheepshead Bay to Park Slope and far deeper, into the heart of Brooklyn's historical and criminal largesse, with all of its dark splendor.
--Brooklyn Daily Eagle Brooklyn Noir's contributors are aware of their surroundings, literal and literary...Be cool: This pulp's got enough juice to keep the margaritas flowing.
--Village Voice It's all Brooklyn--Bensonhurst and Brighton Beach, Red Hook and Crown Heights--in this atmospheric collection of noir tales.
--Booklist "This Brooklyn is cagey and unpredictable. This is about the shadowy corners, the musty old bars and the sidewalks littered with broken glass. In Brooklyn Noir, you can't take anything for granted."
--Brooklyn Paper A recent publication from Akashic Books is the laudable Brooklyn Noir, a collection of dark tales set in New York's self-proclaimed punchiest borough...the story by Peter Hamill is more than worth the price of the whole book.
--New York Sun 718 represent ...Brooklyn Noir will make you'se leave the light on at night.
--Metro Brooklyn Noir is such a stunningly perfect combination that you can't believe you haven't read an anthology like this before. But trust me--you haven't. Story after story is a revelation, filled with the requisite sense of place, but also the perfect twists that crime stories demand. The writing is flat-out superb, filled with lines that will sing in your head for a long time to come.
--Laura Lippman, winner of the Edgar, Shamus and Agatha awards An excellent collection of Brooklyn stories that I urge everyone to read.
--Marty Markowitz, Brooklyn Borough President Contributors include Pete Hamill, Nelson George, Sidney Offit, Arthur Nersesian, Pearl Abraham, Ellen Miller, Maggie Estep, Adam Mansbach, CJ Sullivan, Chris Niles, Norman Kelley, and many others. Akashic Books announces Brooklyn novelist Tim McLoughlin as the editor of the anthology (in addition to his contributing a story). McLoughlin's respect on any Brooklyn street predates the publication of his debut novel Heart of the Old Country (Akashic, 2001), a selection of the Barnes & Noble Discover Great New Writers Program that was hailed by Entertainment Weekly as an inspired cross between Richard Price and Ross McDonald. For years, McLoughlin has worked in the Kings County Supreme Court in downtown Brooklyn.

Akashic Books, 9781888451580, 300pp.
Publication Date: July 1, 2004
About the Author
Tim McLoughlin was born and raised in Brooklyn. His debut novel, Heart of the Old Country (Akashic), was hailed as reminiscent of James T. Farrell's Studs Lonigan and George Orwell's Down and Out in Paris. He was editor of Brooklyn Noir, first in the Akashic Noir Series, as well as Brooklyn Noir 2 and Brooklyn Noir 3.