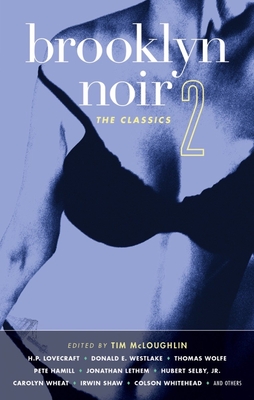 Brooklyn Noir 2 (Paperback)
The Classics
Akashic Books, 9781888451764, 300pp.
Publication Date: June 1, 2005
* Individual store prices may vary.
Description
On the heels of the stunning success of the Summer '04 award-winning bestseller Brooklyn Noir, this second volume digs deeper into the criminal history of New York's punchiest and most alluring borough. Brooklyn Noir 2 offers short stories by the classic authors who blazed the path for the success of the first volume, which award-winning mystery author Laura Lippman called, "a stunningly perfect combination . . . the writing is flat-out superb, filled with lines that will sing in your head for a long time to come." Brooklyn Noir was featured in every media outlet in New York City (including two New York Times features and an appearance on the Leonard Lopate NPR radio show), as well as publications and media all across the country (and the UK, Australia, Italy, etc.). Once again in Brooklyn Noir 2, each story is set in a distinct Brooklyn neighborhood and mixes masters of genre with some of the best literary fiction writers to ever set foot in the borough. These brilliant and chilling stories see crime striking in communities of Russians, Jamaicans, Puerto Ricans, Italians, Irish, and many other ethnicities--in the most diverse urban location on the planet. Contributors: H.P. Lovecraft, Lawrence Block, Donald Westlake, Pete Hamill, Jonathan Lethem, Colson Whitehead, Carolyn Wheat, Thomas Wolfe, Hubert Selby, Jr., Stanley Ellin, Gilbert Sorrentino, Maggie Estep, Salvatore La Puma, and Irwin Shaw. "Here, McLoughlin mine reprints, allowing him to pay tribute to "all the great stories that had given me the idea for such a book in the first place..".Terrific appeal for Brooklynites."
--Booklist "An assortment of the borough's crime-fiction masterminds get down to the gritty details in this entertaining collection of chilling stories."
--BKLYN "Brooklyn Noir 2: The Classics, edited by Tim McLoughlin, is the perfect companion to McLoughlin's successful all-original anthology."
--Publishers Weekly "Murder. Mystery. Mayhem. Once again we visit the borough of Brooklyn by way of deftly authored stories by those who live and breathe it...Editor Tim McLoughlin handpicked a tome full of the best tales already told about the duplicitousness of both Brooklyn's landscapes and inhabitants."
--Tablet "Brooklyn Noir 2 is gritty nostalgia served with a side dish of modern noir, always insightful and colorful without apology--much like the borough itself."
--Future MYSTERY Anthology Magazine "Packed full of literary treats...The stories here are all set in Brooklyn and date from early in the last century to the present day...What a fine collection. My thanks to Tim McLoughlin for such an intelligent and splendid anthology."
--Mystery Scene Magazine

About the Author
Tim McLoughlin was born and raised in Brooklyn. His debut novel, Heart of the Old Country (Akashic), was hailed as reminiscent of James T. Farrell's Studs Lonigan and George Orwell's Down and Out in Paris. He was editor of Brooklyn Noir, first in the Akashic Noir Series, as well as Brooklyn Noir 2 and Brooklyn Noir 3.