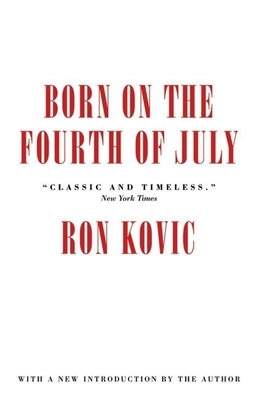 Born on the Fourth of July
Paperback

* Individual store prices may vary.
Other Editions of This Title:
MP3 CD (9/20/2016)
Description
"A great, courageous fellow, a man of deep moral convictions and an uncompromising disposition."--John Kerry on Ron Kovic "As relevant as ever, this book is an education. Ron is a true American, and his great heart and hard-won wisdom shine through these pages." --Oliver Stone, filmmaker "Born on the Fourth of July brings back the era of the Vietnam War at a time when the Establishment is trying to make the nation forget what they call the "Vietnam syndrome." Ron Kovic's memoir is written with poetic passion and grips your attention from the very first page to the last. It is a classic of antiwar literature and I hope it will be read by large numbers of young people, who will be both sobered and inspired by his story. --Howard Zinn "If you want to understand the everlasting reverberations of our war in Vietnam and how it impacts our current events, you must read this book." --LARRY HEINEMANN "There is no book more relevant in the 21st century to healing the wound of Vietnam, which continues to bring so much pain to our country, as reflected in the last presidential election . . . It remains to Kovic to remind us that history matters, and that the cost of our high follies persists." --ROBERT SCHEER, Los Angeles Times columnist This New York Times bestseller (more than one million copies sold) details the author's life story (portrayed by Tom Cruise in the Oliver Stone film version)--from a patriotic soldier in Vietnam, to his severe battlefield injury, to his role as the country's most outspoken anti-Vietnam War advocate, spreading his message from his wheelchair.

Akashic Books, 9781888451788, 224pp.
Publication Date: June 1, 2005
About the Author
Ron Kovic served two tours of duty during the Vietnam War. He was paralyzed from his chest down in combat in 1968 and has been in a wheelchair ever since. Along with Oliver Stone, Kovic was the co-screenwriter of the 1989 Academy Award-winning film based on the book (Tom Cruise plays the role of Kovic).
or
Not Currently Available for Direct Purchase