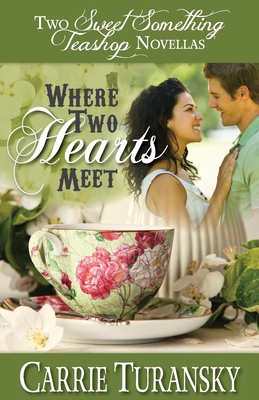 Where Two Hearts Meet
Two Sweet Something Teashop Novellas
Paperback

* Individual store prices may vary.
Description
Two Sisters, Two Heartwarming Romance Novellas There's no better place for romance, forgiveness, and new beginnings than the Sweet Something Teashop. Tea For Two Allison Bennett, co-owner of a financially strapped teashop in Princeton, New Jersey, receives a large anonymous check that saves her business. But she has no idea who sent it. Could it be from Peter Hillinger, the wealthy businessman who owns the shop next door and wants to win Allison's heart? Or is it from Tyler Lawrence, Allison's old boyfriend, who returns to town claiming a renewed faith and a changed life. Allison doesn't know whom to trust. Should she follow her head or heart, or is there Someone else who can guide her toward the best path for her future? Wherever Love Takes Us After twenty-five years of marriage, Matt and Tessa Malone are struggling to recover financially and rebuild trust following a business failure. Then Matt inherits property in Oregon, and he wants to move the family there to make a fresh start. But Tessa can't imagine giving up the cozy teashop she co-owns with her sister, or leaving her friends and family in Princeton. Whose dream will they follow, and how much will it cost their family? Can they resolve their differences and rebuild a love that seems lost? Tea for Two was orginally published in Kiss the Bride, and Wherever Love Takes Us was originally published in Wherever. These two novellas have been expanded and updated and put together in one book. I hope you enjoy them.
Effective Parenting, Incorporated, 9781888685626, 172pp.
Publication Date: April 16, 2014
About the Author
Carrie Turansky is the award-winning author of thirteen inspirational romance novels and novellas including The Governess of Highland Hall, Surrendered Hearts, and Christmas Mail-Order Brides, which was the winner of the ACFW Carol Award. Carrie and her husband Scott have been married for over thrity-five years and make their home in central New Jersey. You can learn more about Carrie and her books at her website: http: //carrieturansky.com, or by connecting with her on Facebook, Pinterest, and Twitter.