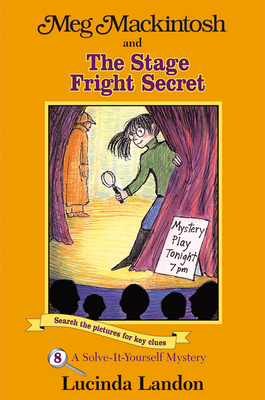 Meg Mackintosh and the Stage Fright Secret (Paperback)
A Solve-It-Yourself Mystery (Meg Mackintosh Mystery series #8)
Secret Passage Press, 9781888695076, 48pp.
Publication Date: August 1, 2004
* Individual store prices may vary.
Description
In this eighth adventure in the popular Meg Mackintosh Mystery series for young readers, children join Meg at school, where the mystery club is performing a play. During the twists and turns of the play, a real mystery takes place on the stage. Young detective Meg, who is the announcer for the play, must use her powers of observation and deduction to solve such questions as Why did the lights go out at the wrong time? What happened behind the curtain? Who stole the valuable prop? and Does the case have something to do with Meg's brother's stage fright? This story features maps, photographs, scrambled codes, and clues hidden in line drawings, inviting even the most intimidated readers to observe the scenes and solve the mystery. An ideal way for teachers to introduce themes of mysteries and theater, this fast-paced suspense story offers a mini-play within the book that can be performed by young readers.

About the Author
Lucinda Landon is a children's book illustrator and the author of American History Mysteries and the Meg Mackintosh Mystery series, which includes Meg Mackintosh and the Case of the Missing Babe Ruth Baseball and Meg Mackintosh and the Case of the Curious Whale Watch. She lives in Foster, Rhode Island.