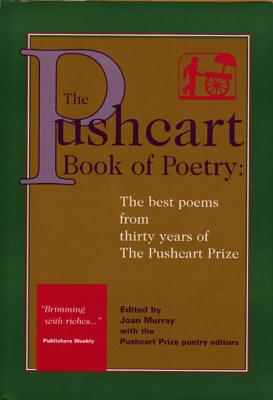 The Pushcart Book of Poetry (Hardcover)
Pushcart Press, 9781888889345
Publication Date: January 17, 2007
* Individual store prices may vary.
Description
As selected from the first twenty-five years of The Pushcart Prize, the best poetry in recent American literature.



What a wealth of brilliance has appeared in over a quarter-century of The Pushcart Prize, and much of that brilliance has been evident in the poetry.



From the start of the series in 1976, the editors of The Pushcart Prize have celebrated all sorts of poetry, from the traditional to the experimental, by both known and unknown poets. More than 750 poems have appeared, selected by new poetry editors for most of the twenty-five editions.



Under the general editorship of Joan Murray, herself a distinguished poet, all of the past poetry editors were asked to select their favorite poems; the result is a poetry anthology like no other. The list of editors alone reads like a Who's Who of American poetry: Billy Collins, Grace Schulman, Carolyn Forche, Gerald Stern, Stanley Plumly, Philip Levine, Jorie Graham, Robert Hass, Philip Booth, William Heyen, Elizabeth Spires, Marvine Bell, Carolyn Kizer, Lynn Emanuel, David St. John, Hether McHugh, and many others.

About the Author
Joan Murray is the winner of the National Poetry Series and the Wesleyan New Poets Series competitions. She has also received awards from the Poetry Society of America. She lives in New York.

More than 200 Contributing Editors and CO-Editors help select the annual volumes of The Pushcart Prize. The Pushcart Prize Editors come from almost every state in the USA and around the world. Every year more than 8,000 nominations are received for the Pushcart Prize.
or
Not Currently Available for Direct Purchase