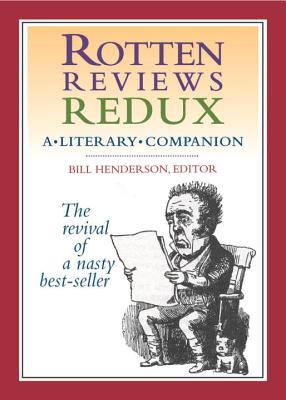 Rotten Reviews Redux (Hardcover)
A Literary Companion
Pushcart Press, 9781888889680, 95pp.
Publication Date: November 22, 2012
* Individual store prices may vary.
Description
The revival of a nasty bestseller!
A quarter century ago Pushcart Press took aim at ridiculous reviews that had trashed literary masterpieces through the centuries. Over 175 attacks were quoted in a little book that itself became a best-selling classic. Today much has changed. The rise of digital self-publishing has fired up hundreds of critical blogs. As the cliché has it everybody is a critic – and they're often anonymous and far from nice.
This collection, with a new introduction, by Pushcart editor Bill Henderson includes gems like:
"The final blow-up of what was once a remarkable, if minor. talent." (
The New Yorker
, 1936, on William Faulkner's
Absalom, Absalom!
)
"Diffuse…brackish…pretentious." (Virginia Wolfe, 1922, on James Joyce's
Ulysses
)
"Whitman is as unacquainted with art as a hog is with mathematics." (
The London Critic
, 1855, on Walt Whitman's
Leaves of Grass
)
"It gasps for want of craft and sensibility." (
New York Times Book Review
, 1961, on Joseph Heller's
Catch-22
)
About the Author
Bill Henderson is the founder and editor of the Pushcart Prize. He received the 2006 National Book Critic Circle's Lifetime Achievement Award and the Poets & Writers / Barnes & Noble Writers for Writers Award. He is also the author of several memoirs, including All My Dogs: A Life. The founder of the Lead Pencil Club, Henderson lives on Long Island and In Maine where he runs the Pushcart bookstore – "the world's smallest bookstore."
or
Not Currently Available for Direct Purchase