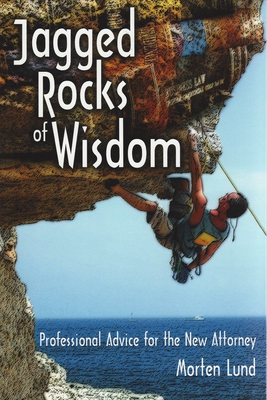 Jagged Rocks of Wisdom (Paperback)
Professional Advise for the New Attorney
Fine Print Press, 9781888960075, 94pp.
Publication Date: March 15, 2007
* Individual store prices may vary.
Description
I've broken rules 1, 2, 3, 5, 9, 10, 12, 13, 19, and 21, just about half the rules in this book. Each and every time I broke one of these rules, I felt the consequences: loss of trust by my supervising partner, looking like an idiot, looking lazy, the list goes on and on. Had I read Lund's book, Jagged Rocks of Wisdom: Professional Advice for the New Attorney, before starting work at the largest law firm I ever worked in, I would have undoubtedly been far more successful than I was.
Lund is a Yale Law School grad who is now a partner with Stoel Rives LLP, a prestigious large law firm of the type many law grads hope to work in one day. He is literally the kind of guy who makes hiring and firing decisions, and who you've got to please in order to succeed. This alone proves his credentials for writing this book, which is a highly-distilled set of twenty-one simple rules that each and every new associate should adhere to. These aren't suggestions, these aren't guidelines, they are rules, each well-written, and each with real-life consequences for breaking (and real life benefits for following).
Lund writes from the perspective of a partner in a law firm, faced with associates who are variously ineducated, unskilled, eager to learn, forgetful, lazy, clueless, rude, stuck-up, arrogant and utterly unaware of their low place within the hierarchy of a law firm. He has to manage these associates, and he's got many other things to do each day besides manage associates. So by producing such a simple, clear set of rules for how the law firm works, he has essentially produced a book that if read and digested by associates, there should be no more of the stupid, timewasting, moneywasting, embarrassing, client-annoying, partner-annoying, and pointless mistakes that suck useful time out of each and every day. And when these mistakes are avoided, he's happier. So you'll be happier. Because if the partner isn't happy, you will definitely not be happy and you won't leave the office until the partner is happy
The book is a lunchtime read - it's short. There's no fluff in here, just 100% pure and serious advice. Some of it sounds like common sense, but for every reader (including me), there's important rules that are not common sense, but which are still highly important. For example, I would often be in a casual hallway discussion with a partner about a project, and realized that I had no yellow pad to write on. So I either tried to remember everything that I was being told (a bad move), or scribbled the information on whatever I had in my hands, which was generally the back side of an already-printed contract or envelope, sometimes the back of my hand itself. These techniques showed me as unprofessional, and this was noticed by partners who felt my record-keeping was a little too ephemeral for their liking. Just remember that every rule is in the book because someone (or some people) didn't know beforehand, and screwed something up. Read each and every rule, just to make sure you're not one of those people who screw up.
Screw ups in law firms cost time and money to fix. They sometimes cause clients to leave the firm. I have seen this happen with my own eyes. Law is a competitive business, and one that cannot afford to produce anything other than perfect work product. With so many other law firms begging for new business, client relationships to certain firms are loosening, and it might not take much of a screw up to send that lucrative client down the road to the next law firm. That's a career ending move in many cases.
It took me a long time to realize how things worked, and had I read this book before taking a position in a larger law firm, I would have been given a "heads up" in about one hour that would serve me well in my first few years of practice. I would have found it easier to decipher what the partners were looking for, how to act around them, and how to fit in to excel in my role of junior associate.
Law grads have generally been told they are special for decades. Special in high school, college, law school. But the game changes when they hit the real world, where partners are rushing around pulling together transactions spanning millions of dollars, or litigating cases with enormous stakes. Law grads aren't special in law firms. There are few miniature transactions that are simple for new associates to cut their teeth on, so in order to learn, new associates much dive in at the bottom of an existing team. And there's a huge learning curve, both in terms of the substantive law, the structure of the transaction, the nature of the parties etc. The one and only asset a new associate can bring to the team is contained in Lund's book: A working style that will mesh as quickly as possible with the team, and an ability to not make these stupid mistakes (having read this book). Then the team can focus on bringing the new member up to speed, rather than spending their time correcting mistakes and screw-ups made by the newbie who just didn't know the rules.
Lund's book is published and available. If you're a law student nearing graduation or nearing a summer position working in a firm, buy it, read it, and take it all in. It will boost your chances of getting a favorable outcome from that summer placement or internship countless times. If you're a law professor looking for a good book to use for a short course on legal skills, buy twenty copies and use it as the class text. Bring in a guest lawyer each week and discuss one or two of the rules. If you're a hiring partner in a law firm, buy this book for each and every one of your new associates, and have a one hour meeting with a senior partner to go over the material so that each and every new associate knows the rules. This book shouldn't be limited to law students who want to become the best attorneys they can; employers can take a proactive step.