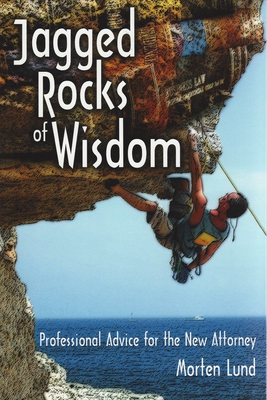 Jagged Rocks of Wisdom (Paperback)
Professional Advice for the New Attorney
The Fine Print Press, Ltd., 9781888960075, 94pp.
Publication Date: March 15, 2007
Other Editions of This Title:
Paperback (9/15/2011)
* Individual store prices may vary.
Description
A new job is scary. A new job as an attorney is scary times two:  the challenges are both substantive (as in actually knowing the law), as well as procedural (as in knowing how to act like an attorney). In this professional transition, many, many new attorneys fall by the wayside. This book is a guide to keep the new attorney on track.
Written in a first- and second-person tense and filled with no-nonsense guidance from someone actually in the mentorship role in a real-world national law firm, this professional guidebook is unique among the titles available to the new attorney.
While many guidebooks are filled with platitudes and generalities, there is a serious need for genuine professional guidance. That's where this focused guide steps in. 
This book is a companion to The Young Lawyer's Jungle Book: A Survival Guide, which started the genre. Thane Messinger, author of The Young Lawyer's Jungle Book, was so impressed he wrote a foreword for Jagged Rocks of Wisdom. These two books will make a difference—sometimes the difference—for the new attorney.
About the Author
Morten Lund is a partner in the Energy and Telecommunications group of Stoel Rives LLP, where his practice focuses on the development and finance of renewable energy projects. Previously, Lund was a partner at Foley & Lardner, LLP. Born in Oslo, Norway, Lund is a graduate of Yale Law School. Thane Messinger is an attorney, an adjunct professor of business law, and an author of The Young Lawyer's Jungle Book: A Survival Guide; Law School: Getting In, Getting Good, Getting the Gold; and Con Law: Avoiding...or Beating...the Scam of the Century (The Real Student's Guide to Law School and the Legal Profession).
Praise For Jagged Rocks of Wisdom: Professional Advice for the New Attorney…
"Who says there's no how-to manual for new lawyers just starting their first legal jobs? Jagged Rocks of Wisdomand The Young Lawyer's Jungle Book come about as close as possible to providing the Holy Grail for new associates: practical advice on navigating the day-to-day life as a real, live, memo-writing attorney. Jagged Rocks of Wisdom delivers its career advice in "21 Rules," which are explained in short, pithy chapters and include anecdotes. The Young Lawyer's Jungle Book takes a more in-depth approach to helping new associates succeed in their jobs. Both books are quick reads and perfect companions." — Carrie May Poniewaz, Florida Bar Journal, vol 81, no. 10, Nov. 2007
"Jagged Rocks of Wisdom is a must for all new associates. The advice in its "21 Rules" will help young associates avoid some of the key pitfalls that a surprising large number of otherwise intelligent lawyers make early in their career. This is the practical advice that law schools don't teach you and that partners assume is obvious.  I highly recommend the book." — Jeffrey R. Atkin, Foley & Lardner LLP
""Law school grads generally have no clue how to actually practice law. Morten Lund's book sets out common sense principles that all of us as baby lawyers can benefit from. I wish I had had Lund's book when I graduated." — Gregory F. Jenner, Stoel Rives LLP
​"The two books published thus far in Lund's Jagged Rocks of Wisdom series are "must reads" for any new lawyer (or summer associate for that matter) who intends to work in a law firm." — Jeffrey S. Gundersen, Foley & Lardner LLP