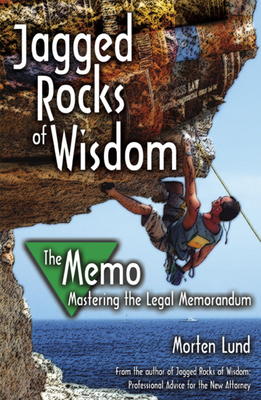 Jagged Rocks of Wisdom—The Memo (Paperback)
Mastering the Legal Memorandum
The Fine Print Press, Ltd., 9781888960082, 96pp.
Publication Date: May 15, 2009
* Individual store prices may vary.
Description
Lund has done it again: another concise, readable, and most importantly, extraordinarily insightful book for the new attorney. "Jagged Rocks of Wisdom - The Memo" takes a down-to-earth look not just at how and why partners expect their associates to produce high quality legal memoranda, but provides an unusually-frank glimpse into the formal and informal interaction between partner and associate. This book won't just improve your written work product; it'll improve your working relationship with your boss.
The book makes it clear that there's a rather large chasm between what law students are taught in law school and the realities of the practice of law. "It depends" is almost never a good answer to give your supervising partner, and lazy, carefree research and analysis doesn't fly in the real world. This book explains the role of an effective attorney as someone who can give timely, practical advice to clients, and draw sound, useful conclusions from very specific sets of facts. The days of wishy-washy middle-of-the-road fiddling stop after the bar exam and have no place in the law office; if clients wanted those kinds of answers, they'd pay a law student to do the work for a tenth of the price they're willing to pay an attorney. To put it bluntly, this book is a call for your legal abilities and attitude to "Man Up and Get With The Program" with clear instructions on how to do so. It's time to lose some of the bad habits learned in law school, and it's time to learn some of the good habits that aren't taught in law school.
There's plenty of writing advice in this book, from the very basic (but vitally important) need to proofread everything, to the less obvious matters such as answering the question the partner is asking, even when he doesn't actually ask it, and everything between. But unlike other legal writing how-to books, "The Memo" doesn't base its advice in grammatical rules or old-fashioned traditions, with unconvincing explanations and weak examples. This book grounds every single piece of advice in a modern practical context, explaining how it ultimately helps the firm serve the client's best interests - that's what practicing law is all about, right? To use a simple example, producing an incomplete memo doesn't just make you look like an idiot in front of your supervising partner; it ends up being nothing more than wasted, unbillable time that you and the partner could have spent actually working on the client's important case or transaction. The book, in essence, frames even the simplest memorandum in the context of being a key part of a larger legal matter, an even larger relationship between partner and client, and perhaps an even larger relationship between associate and partner. The reader comes away from "The Memo" with a clear understanding that law is a business, partners don't have time or money to waste, and every little task they hand off to junior associates should be treated as if it's vitally important. Because it probably is, even if the associate doesn't know it.
Lund's work is a bargain. For attorneys trained prior to Lund's entry into the world of publishing, lessons were learned the hard way. I learned much of what Lund has to offer by making mistakes, many of which were the kind that that had the potential to cause long-term damage to my reputation with my supervising partner. The time I tried to bluff my way through a nearly-perfect memo, thinking that the partner knew less than me about the subject and wouldn't ask questions about the 1% of the work I skipped over? Yeah, not good. The time I figured I'd have plenty of time to complete a project, only to find that it was far more complex than I thought and I'd left it too late? Not good either. The time I couldn't read one of his scrawled comments in a margin of a hundred page lease and I (wrongly) assumed that I knew what he was commenting on? That was a bad week, and I'm still not sure I'm forgiven for that embarrassing episode. Don't follow my example. This book is cheap insurance.
This book not only explains the art of the memo, but it challenges the young lawyer to produce perfect work immediately, as perfect as if the most senior lawyer in the firm produced it. It pushes the reader to exceed all expectations. This isn't an unachievable goal, and here's why. Assuming the partner is a decent manager who knows the associate's strengths and weaknesses, he'll delegate ability-appropriate tasks, some of which will stretch boundaries and teach more advanced lawyering skills, some of which won't. (No partner wants associates to fail - it's a waste of time and money.) The associate has no excuse for not executing these basic tasks with the utmost precision, as the associate is working within or close to his or her existing skills and abilities. What the book is cautioning against is assuming that because the associate is junior, that mistakes are acceptable, or that there's some kind of learning curve that gives junior associates a free pass to screw things up for a few months (or years, as the case may be). There is no such thing. A good partner will delegate tasks that a junior associate can execute perfectly right from the beginning, provided the advice in the book is followed. Perhaps law is a career where learning from one's mistakes is utterly inappropriate. At a bare minimum, mistakes cost time and money, and law firms are working on razor thin margins these days in order to retain good clients or keep junior associates employed. And an average mistake, if not caught soon enough, will damage client relationships, ruin your relationship with your supervising partner, and could actually cause harm to the client. Or lose you your job. Lund's writing style is consequently blunt, and he shows that he's not a lawyer who suffers fools. But don't let this put you off: he's not your supervising partner! This book is like getting yelled at for screwing up, but without you having to screw up. So you might get that pay raise after all.
The advice in "The Memo" is more general than its title might appear. Although the life of the junior associate will likely be memo after memo after memo, the lessons learned apply to every aspect of competent lawyering. A quick email to a client? Follow the same principles as with writing a memo: proofreading, answering the question (asked and unasked), understand the facts fully, write for this specific audience etc. Preparing for leading a meeting with an important client? Same thing, just follow the fundamentals illustrated in "The Memo". This is core lawyering.
Lund's books are deceptive. They each come in at around 100 pages, but having read more than my fair share of books covering legal education and the legal profession, Lund's stand out as being nothing but relevant material. There's no filler, no fluff, just pure straight-to-the-point advice. Lund is also set apart from many other books in the same category by having an author with the credentials and experience to back up his advice. A Yale JD and well over fifteen years of legal experience more than qualifies Lund to deal out the hard-hitting, accurate advice contained within "The Memo." I've personally seen many new attorneys come and go, and I've seen the qualities of those who fail and those who succeed. I can personally vouch for the fact that any new attorney that takes Lund's advice to heart and strives for that level of quality, pride and perfection in their work stands a far greater chance of succeeding in this profession than one that tries to reinvent the wheel and learn from mistakes rather than successes.
About the Author
Morten Lund is a partner in the Energy and Telecommunications group of Stoel Rives LLP, where his practice focuses on the development and finance of renewable energy projects. Previously, Lund was a partner at Foley & Lardner, LLP.
Born in Oslo, Norway, Lund is a graduate of Yale Law School.
Attorney, adjunct professor of business law, and author of The Young Lawyer's Jungle Book: A Survival Guide; Law School: Getting In, Getting Good, Getting the Gold; and Con Law: Avoiding...or Beating...the Scam of the Century (The Real Student's Guide to Law School and the Legal Profession).