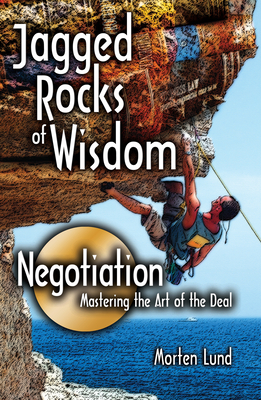 Jagged Rocks of Wisdom-Negotiation (Paperback)
Mastering the Art of the Deal
Fine Print Press, 9781888960099, 158pp.
Publication Date: September 1, 2011
* Individual store prices may vary.
Description
The third book in Morten Lund's "Jagged Rocks of Wisdom" series, entitled "Negotiation: Mastering the Art of the Deal," is his finest book yet. The two prior books were focused on assisting new lawyers with their transition from law student to practicing attorney, and did so in fine fashion. The Art of the Deal differs in that while it's directed towards new attorneys wishing to learn how to negotiate in the legal world, this book is a broad-based, practical, and systematic approach to negotiating deals that extends far beyond the practice of law. True, this book will absolutely help new lawyers figure out the players and plays involved in the negotiation of deals in which they are involved as counsel, but the skills learned translate into almost any imaginable situation in which cool-headed, intelligent and powerful negotiation skills are needed. Buying a new car? Read this book first. Divorcing your husband? Sure, read this book first - you might find your post-marriage relationship with your ex-spouse just that little more pleasant if the split is well negotiated. (I'm sure that Lund didn't have this in mind when writing, but the point is this book has utility far beyond its intended audience.) In fact, this book could easily be retitled and sold as a general guide to successful negotiation for all readers, not merely new attorneys. But for right now, let's keep this book in the legal profession; we don't want to give away all the secrets to why lawyers command large fees, right?
In my experience, many new attorneys approach negotiation in two ways. The first is utterly ineffective; too-easily bowing to pressure, opposing counsel's demands, and seeing themselves as the junior party and thus not an equal with the experienced opposite team, hoping that the opposition will go easy in return. The second is similarly ineffective; approaching the negotiation with the attitude that it's an argument or battle to be won at all costs, that bullying and threats work, and that a successful outcome requires that the opposing side walks away beaten down and crushed, having given in to every single demand, reasonable or not. In reality, and as Lund guides the reader through in The Art of the Deal, the successful negotiation is neither of the above, nor really any combination of the above. The successful negotiator is confident, prepared, methodical, and although he or she may at times act as if angry, argumentative, friendly, adamant or appeasing, it is only an outward appearance, the true negotiator remaining totally in control internally and using specific behavior, language, tools and tactics to get what he or she wants in an ordered, predictable manner by following certain rules. Successful negotiation is not luck, not innate, but rather a craft that can be learned and, through practice, matured and improved. The Art of the Deal guides the reader through the rules, skills, steps and tactics involved in a successful negotiation, and doesn't subscribe to the idea that some people are by nature cut out for negotiation while others aren't. So if you're concerned that you're not the type of person who is able to negotiate well (i.e. a born arguer or type-A personality), suspend judgment of your own abilities until you've read this book: I think you'll be pleasantly surprised with the confidence level Lund inspires in his readers.
If the above sounds complicated, let me sum up Lund's approach to negotiation: imagine a game of chess - with its complex rules, strategies and many moving parts - in which the goal is that both sides walk away happy. No losers. Just winners.
Lund's book explains how to negotiate with a win-win outcome in mind, not a win-lose attitude. As Lund explains in Rule 20, it's not a zero sum game. For you to win, the opponent doesn't have to lose; your client needs to have its goals met while trying as much as possible to preserve the goals of the opposing party. Everybody should walk away from the table with as much of what they came for as possible. Negotiation is highlighted as a collaborative process, but not necessarily one that doesn't have room for getting a great result for your client if your opponent is willing to give it all up, and not necessarily one that has no room for the deployment of effective rhetorical and psychological tactics and techniques to achieve the best result for your client, many of which are explained in the book. This is perhaps best illustrated with the following quote: ..".instead of butting heads with your opponent, instead of trying to convince her that you are right and she is wrong, instead of trying to impose your way on her by sheer force of will, instead of trying to take what is hers and make it yours - instead of all of those things, you look for an alternate route that gives you both of more of what you each want." And this is what will keep your clients coming back for more, and what will develop your reputation in your practice area as a firm, fair, skilled and effective negotiator that gets the job done. And by helping you understand this, Lund is looking out for your career, not giving you cheap negotiation tricks for short-term gain at the expense of your reputation.
The book is written, as with the previous two books, as a set of rules to follow. And Lund doesn't merely lay out each rule; he lays out why the rule exists, why it's important, and when you can break it (if ever). And it's written from decades of relevant experience, not unpracticed theories or stale skills. Much of the value of Lund's books, particularly this one, lies in the fact that he's a guy who has been there, done that, and been and done far more than most legal authors I can name. He's led countless negotiations of many types, made the mistakes, learned from the mistakes, and through an iterative process over many years, has refined the art and craft of negotiation and distilled it into this book. A.
About the Author
Morten Lund is a partner in the Energy and Telecommunications group of Stoel Rives LLP, where his practice focuses on the development and finance of renewable energy projects. Previously, Lund was a partner at Foley & Lardner, LLP. Born in Oslo, Norway, Lund is a graduate of Yale Law School.
or
Not Currently Available for Direct Purchase