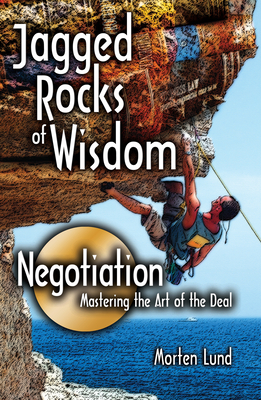 Jagged Rocks of Wisdom—Negotiation
Mastering the Art of the Deal
Paperback

* Individual store prices may vary.
Other Editions of This Title:
Paperback (3/15/2007)
Description
This is the third in a planned series of four Jagged Rocks of Wisdom guidebooks for new attorneys.
The first book, Jagged Rocks of Wisdom: Professional Advice for the New Attorney, focused on issues of professional deportment and training.
The second book, Jagged Rocks of Wisdom—The Memo: Mastering the Legal Memorandum, focused on preparing the new law associate in the crucial skills of legal research and writing.
This book breaks the process of a central lawyer skill—negotiation—into 21 Rules. Lund offers a structured framework for negotiation, and explains in concrete steps how to achieve a desired result. Lund explains and applies these Rules with dozens of real-life anecdotes and "Pro Tips" for immediate use.
This book will appeal to business and community leaders as well.  It focuses on one of the most important tasks for any attorney or leader: negotiation. Given its broader market appeal, it is priced below comparable negotiation titles.
Praise For Jagged Rocks of Wisdom—Negotiation: Mastering the Art of the Deal…
"Once again, Morten Lund combines a sharp insight with a wicked sense of humor to provide invaluable advice on how to negotiate.  Except for students who take a class in negotiations (and perhaps even some of those), business and law school graduates are woefully unprepared to face a real-life encounter in a conference room with parties having very different interests than their own.  Learning by observing is, at best, extremely inefficient, and learning by doing is far too dangerous.  In 
Jagged Rocks of Wisdom – Negotiation
, Lund has given the young attorney with a set of guideposts (Lund's "21 Rules") that will allow the professional to avoid the pitfalls inherent in every negotiation.  I wish Lund's book had been around when I was younger, although someone who has been around as long as I have is never too old to learn." — 
Gregory F. Jenner
, Senior law practitioner, Partner at Stoel Rives LLP
"Mastering the art of negotiation is among the most important challenges for any leader. Understanding negotiation—the relationships, the nuances, the dynamics—is a crucial skill.  Every manager, attorney, and government policymaker should read 
Jagged Rocks of Wisdom—Negotiation
 and internalize Lund's 21 Rules so that they too can master the art of negotiation." — 
Eric Redman
, President, Summit Power Group LLC
"What Morten Lund has to say about negotiation should be read by every new attorney, manager, and official. Lund conveys what a real leader needs to know, right now—and what that leader needs to do, right now. He breaks down each major topic into "21 Rules"—detailed, concise, usable rules for those with a minimum of time and a maximum of get-it-right. Lund's books should be required reading for anyone who negotiates professionally." — Jeffrey R. Atkin, Senior Law Practitioner, Partner at Foley & Lardner LLP
The Fine Print Press, Ltd., 9781888960099, 149pp.
Publication Date: September 15, 2011
About the Author
Morten Lund is a partner in the Energy and Telecommunications group of Stoel Rives LLP, where his practice focuses on the development and finance of renewable energy projects. Previously, Lund was a partner at Foley & Lardner, LLP. Born in Oslo, Norway, Lund is a graduate of Yale Law School. Thane Messinger is an attorney, adjunct professor of business law, and author of The Young Lawyer's Jungle Book: A Survival Guide; Law School: Getting In, Getting Good, Getting the Gold; and Con Law: Avoiding...or Beating...the Scam of the Century (The Real Student's Guide to Law School and the Legal Profession).
or
Not Currently Available for Direct Purchase