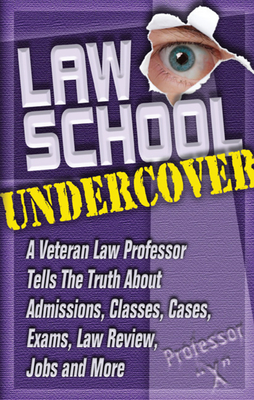 Law School Undercover (Paperback)
A Veteran Law Professor Tells the Truth about Admissions, Classes, Cases, Exams, Law Review, and More
Fine Print Press, 9781888960150, 158pp.
Publication Date: May 1, 2011
* Individual store prices may vary.
Description
Law School Undercover, by "Professor X," is by far the most unique law school guide I have ever encountered. In a good way. Simply browsing the catalog of available law school guides reveals countless volumes written primarily by fairly-recent law school graduates. Most of those books are average at best - a fact to which I can attest from having read the vast majority. Some are bad, and a handful stand out as being superior; I have happily reviewed the better ones on Amazon.com to explain exactly why they are worth buying. But few truly step outside the boundaries of what a law school guide can be. One notable exception, or rather, three notable exceptions, are the "Jagged Rocks" guides written by Morten Lund, which, by virtue of his original approach to the genre, are wonderful books. And now, with the publication of Law School Undercover, we have another highly original law school guide that deserves attention.
I find it hard to write a review these days without referring to Lund's work, as you've no doubt already discovered in the preceding paragraph. But the things that make Lund's work good are apparent in Law School Undercover: an expert author explaining to, rather than just telling, law students and new lawyers how to navigate through the system. Professor X has much in common with Lund, in that to be perfectly blunt, they both "matter" as authors. Without sounding insulting, most law school guide authors don't actually matter. They're "just" law grads, products of the system, explaining what worked and what didn't work while they were going through the system. My own book, "Later in Life Lawyers," suffers from the same inescapable fault in that I was "just" a law grad at the time of writing. This isn't to say that the books written by "just" law grads are irrelevant or unhelpful, but they do tend to come from the same standpoint of trying to make sense of what happens in law school for those who have yet to experience it.
But Professor X, along with Lund, are the system, not just products of it. They aren't "just" law grads, and their advice isn't coming from a law graduate's perspective. They're beyond that level in their careers and their writing. Lund's work is important as it's written from the perspective of a hiring partner at a decent law firm, and to get him and other hiring partners to pay attention to you in a sea of almost-identical law grads, it's worth listening to what he has to say. Lund, in other words, has extraordinary power over your future success or failure as a lawyer. And the same goes for Professor X, who is writing from the perspective of a law professor, and who has insight into the inner workings of the legal education system that prospective law students would be foolish to ignore. Professor X too has extraordinary power over your future success or failure, and to ignore the advice from the very person who will be grading your exams is insane.
But on to the book itself. Law School Undercover is a book that is concise and readable, two qualities of writing that law professors typically ignore - anyone who has worked on Law Review knows what I'm talking about. The book is divided into three main sections, focusing on "before law school" (getting in), "making the grade" (succeeding in class and exams), and "career moves" (self explanatory). Professor X knows why people will pick this book up - i.e. because he's a law professor - and he sticks to what the reader wants, which is specific insider information from a law professor, not merely generic, watery advice. Like almost all of the law school guides published by The Fine Print Press, this isn't intended to be yet another milquetoast encyclopedia of everything to do with law school. It's a guide with a point, a guide written to fill a gap in the knowledge base, rather than simply a guide that covers what has already been covered. And to be honest, the gap left in the knowledge base by the absence, until now, of a solid book written by a law professor was huge. It's only after reading Law School Undercover do you realize how much you didn't know. But please don't think that this means Law School Undercover is so narrow that it can't be a valuable guide to law school as a stand-alone book; it can. Perhaps as proof, it even has a brief section about romance in law school, the hallmark of a law school guide that has it all. (I'm guilty of this as an author, too, as are many others.)
Interesting to note was Professor X's awareness of the challenging job market faced by many law grads. (This in itself is important, as it demonstrates that law professors, contrary to many critics out there in cyberspace, aren't inhabiting an ivory tower; while the study of law can seem far removed from the practice of law, this doesn't necessarily mean that the realities of the practice of law don't affect the study of law and those who teach.) His advice is general in nature concerning this point, but extremely useful. Rather than engaging in a detailed financial analysis of the costs of a law degree, along with detailed (and speculative) economic predictions, Professor X encourages law applicants to look at the larger picture and think further out into the future than they may have done so before. "As I write, much of the American economy is in shambles, and right along with the economy goes the legal profession," writes Professor X. "It does not appear to be a good time to invest in a law degree. I have heard much the same thing said about nearly every other occupation. Yet surely do nothing' cannot be the correct response." So many law applicants exhibit tunnel vision and see the negative in their own chosen field of study, yet fail to see the broader picture: everyone is having a rough time right now, and a law perhaps isn't a much riskier proposition than any other career or degree in the long term.
Law School Undercover attempts to instill in.
About the Author
"Professor X" is a law professor and dean with 20 years' experience. He is a graduate of a national law school, where he was a member of the law review. Before starting his academic career, he clerked for a federal court and practiced law for a national law firm. As a law professor, he has written extensively in his field and taught at three law schools, in which he won numerous teaching awards. He estimates he has personally instructed at least 2,000 law students.
or
Not Currently Available for Direct Purchase