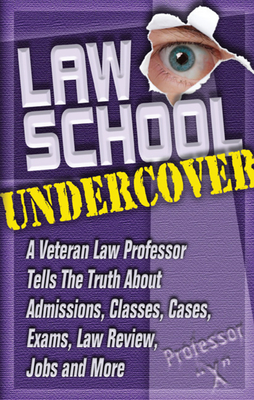 Law School Undercover
A Veteran Law Professor Tells the Truth About Admissions, Classes, Cases, Exams, Law Review, Jobs, and More
Paperback

* Individual store prices may vary.
Description
There are numerous prelaw books. Some are written by former students; a few are written by professors. This book is written, pseudonymously, by a 20-year veteran law professor and dean with behind-the-scenes knowledge of admissions. Law School Undercover offers students the straight truth they will get nowhere else—not in books and not even in direct conversations with law professors and deans. How? Because this is written pseudonymously, after Professor "X" realized his advice to his own daughter departed radically from his advice to students. This book is his apology. All law students will benefit from his inside, "underground" advice. Law School Undercover covers all aspects of law school, from selecting the right law school to admissions to first year to law review, moot court, and though graduation and jobs. Professor "X" reveals tricks-of-the-trade in admissions, based on years of experience in making these decisions; he discusses the best approaches to classes, exams, and law school activities; he discusses a rare third method for gaining acceptance to law review; and he lays out career options as no one else has.
Praise For Law School Undercover: A Veteran Law Professor Tells the Truth About Admissions, Classes, Cases, Exams, Law Review, Jobs, and More…
"Plainly put, if you are only going to buy one book regarding law school preparation and success, Law School Undercover is the one.
As an integral player in the law school system, having even served on admissions committees, Professor "X" offers an invaluable and up til now unavailable-to-the-public point of view on law school.
Professor "X" covers just about every aspect of the law school experience from deciding whether you should apply all the way up through your career track. If you've read my reviews of the 'Jagged Rocks' series of books by Morten Lund, this follows a similar trend of giving readers the hard, honest truth — and there's simply no other book on the market that gives this much dirt on the entire law school experience.
Topics covered range from whether law school is right for you to what you'll receive at a top school that you wouldn't get elsewhere. You'll also read about 'developing a law school mentality,' the right way to learn the law, and how you can start your legal career while still in law school.
I give this book five stars and would give it more if I could; this is an absolute must read for anyone considering or already attending law school." — Michelle Fabio, http://personalstatementartist.com/about/
The Fine Print Press, Ltd., 9781888960150, 149pp.
Publication Date: May 1, 2011
About the Author
"Professor X" is a law professor and dean with 20 years' experience. He is a graduate of a national law school, where he was a member of the law review. Before starting his academic career, he clerked for a federal court and practiced law for a national law firm.  As a law professor, he has written extensively in his field and taught at three law schools, in which he won numerous teaching awards. He estimates he has personally instructed at least 2,000 law students. Thane Messinger is an attorney, adjunct professor of business law, and author of The Young Lawyer's Jungle Book: A Survival Guide; Law School: Getting In, Getting Good, Getting the Gold; and Con Law: Avoiding...or Beating...the Scam of the Century (The Real Student's Guide to Law School and the Legal Profession).
or
Not Currently Available for Direct Purchase