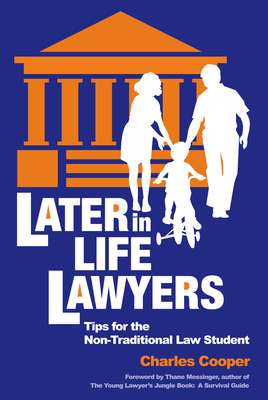 Later-in-Life Lawyers (2nd Ed.)
Tips for the Non-Traditional Law Student
Paperback

* Individual store prices may vary.
Description
Law schools are, by their nature, traditional in attitude and in structure.  Most books about law school take the same approach: they do not address the unique needs of the significant nontraditional segment of their student body.  Other law school books focus on largely irrelevant factors such as rankings and employment in "prestigious" law firms.  In short, even though a significant percentage of law students are nontraditional, there is little accurate, relevant material to help nontraditional students navigate the admissions process and ultimately succeed in law school.  And that's where this focused guide steps in.  Its first edition is already established among nontraditional students. Its second edition will prove even more compelling.
Praise For Later-in-Life Lawyers (2nd Ed.): Tips for the Non-Traditional Law Student…
"The first half of this nearly 300 page 
manual
 is devoted to 'Getting In,' the logistical and emotional challenges facing those who choose to go back to school after a period of time in the real world.  This is very valuable information discussed honestly and peppered with dozens upon dozens of great comments from other non-trad law students like studying for the LSATs, how to figure out the best school for you, what do rankings really mean, scholarships, financial aid and more.
The next hundred pages is devoted to all the trials and tribulations of the First Year, followed by the Second Year and Beyond covering everything from housing to dating to wanting to quit, moot court, law review, managing the confusion, failing exams, on campus interviews to whether or not to get a rolling book bag and looking 'uncool' but saving your back.
It really is an incredible read filled with valuable information to make you feel less isolated through the experience because it isn't one person's voice...it's hundreds in a very well calculated presentation.  And in this regard, the book is priceless.  And I would highly recommend it to traditional law students, too.
I have to say, when I came to the end of the book it left me wanting to know about the bar exam, what to do between taking the bar exam and finding out if I've passed, experiences as an older student looking for a job and beyond.  Granted, it is a book for students....but I wanted the next installment right then and there.
So, if you are considering law school, non-traditional and traditional applicant alike, this is a must read because it is so well written and in voices you know ring true." — Susan Liebel
"Having lived this book, I wish had read it before I went to law school at age 41. Linked to a website known as www.nontradlaw.com, it is filled with useful information about who chooses to go to law school, why they do it, how they get in, and how to succeed once admitted. It recommends study techniques and contains comments from many people in different situations – from the older, married students with past careers, to the ones who are "non-traditional" because they took a few years off between college and law school but are still in their early twenties. The book takes advantage of recent commentary from current law students, quoting directly from lengthy emails.
A large fraction of law students these days are non-traditional. In fact, the "traditional" student may have been the exception, and not the rule, at the University of Utah when I was there. From those who came to Utah to ski and enrolled in law school (partly because of lower tuition), to our "Older But Wiser" social group (those, like me, who were in their thirties or forties with lots of life experience behind them), the U of U Class of 1994 had it all. Many of us with children and other obligations regarded law school as a nine-to-five job.
The book 1-L by Scott Turow was a popular must-read for law students back then, but it had little application to my law school experience at the U. No professor intimidated me as much as Professor Kingsley did the Harvard students. I was older than most of the professors, for one thing. On the contrary, they were positive and encouraging. And no young classmate ever tried to make me feel foolish. We all found the material challenging, whether we could spend the night in the library preparing for a final or had to cut class to retrieve a sick child from preschool.
Cooper takes a strong position on the people who change careers to go to law school not intending to become lawyers: don't do it. Cooper writes, "If you could die without attending law school, don't attend. It's not worth the trouble, expense and stress."
Cooper also emphasizes the numbers game in law school admissions, saying that "a school will rather admit a student with a 3.5 in a lightweight major such as political science from a no-name state college, over a student with a lower GPA in a heavyweight major from a well-known and highly regarded university." Because the admissions score places heavy emphasis on the LSAT, the book spends an appropriate amount of space on preparing to take that exam.
The book also reaffirms the notion that the only sure way to work for a big city, big firm is to go to one of the top law schools, and get the best grades possible.
After the applicant is accepted, the greatest challenge begins: law school itself. The authors and e-mailers provide useful advice on buying books, study groups, learning to outline, preparing a resume, and advice on whether to use Macintosh computers in law school. (The answer is no; they are not supported.)
Cooper acknowledges that making friends and gaining the respect of colleagues in law school helps cement later professional relationships – but they also warn later in life lawyers against making fools of themselves by trying to reclaim their youth. (I insist that my performance in the 1-L parody was not embarrassing, and I was sober.) Their advice boils down to the following: act your age at parties, and don't be the eager beaver in class. Learning to organize one's thoughts quickly in the face of an unexpected question in class pays off later in court, but asking stupid questions and pursuing irrelevant issues just irritates your classmates.
My greatest frustration in law school was trying to glean the important information from everything thrown at me. I started out wanting to know it all, from the arcane minutiae of civil procedure to the property law professor's own pet theories about the redistribution of wealth in society. By the end of the first semester of my first year, I was ready to give up completely. I found a wonderful study partner: an ex-submariner who was being sent through school by the Navy. (If that's not non-traditional, I don't know what is). He not only seemed to possess a photographic memory, but also had an automatic "delete" button that eliminated the superfluous information law professors love to impart. We became, and are to this day, fast friends, although his military law career and my local career are very different.
My only quibble with the book is the mediocre quality of the book itself, which extends to the editing, the book's design, and the proof-reading. Perhaps the niceties were skipped to keep the book's price down for the impoverished law school applicant. Its shelf appeal is not great. That's a shame, because what's inside is. After nearly thirteen years in practice in family law, litigation, and criminal defense, I agree with the author's conclusion that law school, expensive and stressful as it is, is nonetheless 'deeply satisfying, a great achievement, and an intellectual challenge like nothing else.' — Catherine E. Roberts, Utah State Bar
"I was a little hesitant when I picked up this book for a number of reasons. Probably my biggest reason was that I was about to start my last semester of law school. I thought that I had it all together in law school. I was a third year law student, I'd gone through the process, picked up skills and habits along the way, and really didn't think that I'd get much from the book. I was wrong. And worse: I had this book in my hands that I knew would have helped me had I only picked it up earlier. There were pieces of advice that helped me in my last semester of school. I wish that I'd had the chance to read the book before even starting school.
The other reason I was apprehensive about reading Later in Life Lawyers, was that I didn't consider myself to be later in life. I was married with kids before starting school, but other than that, I was a pretty traditional student. Let me say that first off, this book is a MUST for anyone who is starting law school a bit later in life. You really NEED to read this book because it has some advice and suggestions that apply directly to you. There are some great sections on whether you should make the switch and the effect it will have on you and your career. One of the most important thing I took from this book was its message on balance. There is a section that deals with having kids in law school--something that did apply to me, and I think the advice is sound.
If you're a traditional student, like I was, the book is still so chock-full of good stuff, that you would do well to read it before entering law school. (If you've already started school, it's never too late, and the book will help you regardless). Later in Life Lawyers is probably most beneficial because it addresses all students, and especially those students who didn't make it to the top 10% of their class, didn't make law review or the moot court board. There are some helpful tips and suggestions on how to deal with these issues while moving forward with a career as a lawyer.
One of the things that I really like about this book, and that sets it apart from many books out there, is the fact that many people contribute little blurbs or tidbits of advice to concur with the author. I've thought this many times: that law school is a very subjective experience, and that it's hard to pin down the right advice to pass on. There are just so many different ways to do things in law school, that to say one way is the right way is pretty absurd. Here, Mr. Cooper addresses that problem very well, giving general advice (and sometimes specific), but then adding comments from other people who've gone through the law school experience as well. The effect is great, as you get to see different perspectives, but ultimately walk away with some very wise suggestions that will lead to success in law school.
Perhaps the most important, and most beneficial, part of this book was the section on finding a job during school and beyond. There was a chapter on looking for a job in a bad economy, and how to make the best of it. We are in a bad economy and this chapter is directly relevant to EVERY law student. I would recommend this book for that section alone, as the advice is essential. Overall, I highly recommend this book. Another great one is Law School: Getting In, Getting Good, Getting the Gold. With both these books, you really can't help but succeed in law school and in your career as an attorney." — Derrick Hibbard
The Fine Print Press, Ltd., 9781888960167, 329pp.
Publication Date: March 15, 2012
About the Author
Author, attorney, and university administrator, Charles Cooper is founder of nontradlaw.net, the primary website for nontraditional law students. Thane Messinger is an attorney, adjunct professor of business law, and author of The Young Lawyer's Jungle Book: A Survival Guide; Law School: Getting In, Getting Good, Getting the Gold; and Con Law: Avoiding...or Beating...the Scam of the Century (The Real Student's Guide to Law School and the Legal Profession).
or
Not Currently Available for Direct Purchase