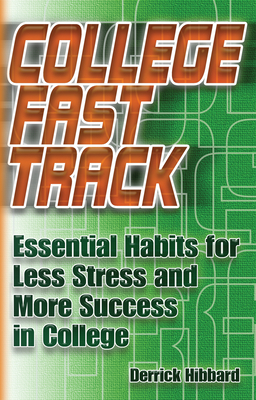 College Fast Track
Essential Habits for Less Stress and More Success in College
Paperback

* Individual store prices may vary.
Description
Books for college students tend to be written by committee or college professors or administrators, highly detailed, and pedantic. They are often written as much for parents as for the students themselves.  They provide information, but their goal is not to help in ways that students are concerned about. And because they are written by those long out of college, it is difficult for students to connect with the advice. College Fast Track is written by a peer student—a highly successful college student who went on to success in law school. As a current law student when writing his first book, Law School Fast Track (upon which this book is based), the author remains highly aware of the issues facing the current student. Rather than being highly detailed, College Fast Trackfocuses on immediately usable habits.  Its goal is to help students improve in measurable ways, and in ways that provide greater—not less—time for enjoyment: success and less stress! Once college begins, however, the reading load is enormous (and parties beckon), thus "extra-curricular" reading is unappealing. College Fast Trackis easy to read, pertaining to the essential habits for success in college. Unlike other books on college, this book will not be over-laden with details about mundane issues. Instead, College Fast Track cuts right to the most important issues. Better success, easier study, and higher grades and graduation prospects.
Praise For College Fast Track: Essential Habits for Less Stress and More Success in College…
"College Fast Track is a quick 'how to' manual that affectively hits the key areas of college academic life.  Everything from setting goals to effective reading and even taking exams.  Since I was a career college student and took what seemed forever to graduate, I appreciated the simple way Derrick approaches the subject matter.  At no point did I feel I was reading a text book or a complicated 'how to' manual.  Instead it was fun and light hearted and kept me interested in the next chapter.  Even though I have graduated I found myself reading and wishing I had applied some of his ideas early on.
One chapter in particular stood out to me was about note taking.  I used to write notes for hours and hours when I was in college.  At some point I gave up and just tried to do quicker outlines for my notes and I found my comprehension level increased.  When Derrick mentions this same technique I felt validated in my skills.  I wish had known this for my first couple of years of college and could have saved a ton of time in studying.  All the more reason why this is a must have for any college student.  Filled with a number of examples, ideas, and concepts that is surely to get the college student thinking on how they can improve and even get the future student excited to attend school.  Developing these habits, as Derrick puts it, '...is doing things without thinking...' and will enhance the students ability to quickly make smart decisions in their college career.
Students will find this easy to read and may even use it as a reference guide as they are getting overwhelmed in school.  As the student prepares for a test they may want to reference the section on exam rituals and how it can stimulate the mind by listening to the same music or eating the same things they did while studying.  College Fast track will improve the average college students chances at success and prepare them for a rewarding career.
Well worth the this quick read!  He has a number of other books including the Fast Track book on Law School as well." — Ben Markland, Blog: From Where I Sit in the World, December 10, 2013
"I don't often write product reviews, but with my oldest daughter entering the middle school years, making sure my children are prepared for college has been weighing on my mind. While I have been aware of what needs to be covered, I'm not worried so much about the courses and subjects the girls choose to study in the years leading up to college, as much as I want to be sure they are prepared to succeed once they are actually enrolled in college.  I attended a college prep high school, took the honors classes, and felt I was well-prepared for life at a university. School always came easy to me, and although I worked hard on research papers and essays, always trying my best, I rarely felt overwhelmed by the workload and relied on the deadlines and check-ins provided to me by my teachers.  But college is a different story, as there is often very little instruction on how and when to actually get the work done, and the chunk of your grade often rests on two scores - midterm and final.  In that first quarter, I felt overwhelmed, nervous, and confused as to how to proceed. 
I was lucky - my type-A personality got me organized quick, and a book I read in middle school (all about study skills and the all-mighty outlining process) ensured that I studied the right way and as such did well enough to go on to a great law school. But I often wonder how it will be for my daughters. One of the benefits of homeschooling is that there isn't the same pressure to complete assignments, there aren't grades, and there aren't even graduation requirements. In my state, once my children reach age 16 (when compulsory schooling ends) there is no legal requirement to do anything. So it's up to me to ensure that my children are prepared to do well in college. 
I received a copy of Derrick Hibbard's College Fast Track: Essential Habits for Less Stress and More Success in College and was intrigued. I haven't read a school success book since the one back in middle school. And after reading it, I believe this book would be extremely beneficial for students getting ready to enter the college years. In fact, I believe most of the advice in the book can be successfully applied to any stage of life! Hibbard focuses on larger concepts and fundamental principles which are essential for success in any endeavor. And the book serves as a good reminder to those of us out of college about what it takes to realize our goals. In terms of specifically doing well in college, College Fast Track offers a good overview of important habits that will help students succeed in their college career.
College Fast Track is broken down into 16 habits, and while Hibbard does provide some practical advice on how to implement each habit, it is not written as a how-to manual but rather as a guide. I feel that this distinction is the real strength of the book. It allows the reader to see the big picture and to absorb which habits to form rather than how to form them. For example, one of the habits is getting organized. Hibbard provides examples and ideas, but he does not exhaust the reader with hundreds of pages on how to get organized. This provides an opportunity to focus on the topic (habits for college success), come up with a game plan, and still have the ability to move on if one already possesses that habit. If one needs further instruction, there are thousands of "how-to" books on each topic. Implementing the habits will not necessarily be easy, but College Fast Track provides you with an outline of what to work on. 
Additionally, Hibbard has, as it states in the title, provided the essential habits. There are many other helpful habits one could use to be successful in school, but this book is about those that are essential to success - the ones that should be focused on and mastered first.  As such, the book is kept to a length that guarantees a new college student can actually read it and begin to use the information, rather than get bogged down in 500 pages of tips and tricks, lose interest, and leave it to collect dust on the shelf. I believe this book is worth reading for anyone focusing on completely a goal be it college, grad school, a business project, a homeschooling plan, etc. And it would make a great high school graduation gift for any student!" — Bee, Blog: Lost Persons Homeschool
The Fine Print Press, Ltd., 9781888960235, 123pp.
Publication Date: July 15, 2011
About the Author
Derrick Hibbard currently lives in Massachusetts. He is the author of the Fast Track Series, about establishing good habits in law school and college that lead to success as a student. He is also the author of the novels This Side of Eden, The Double Stroller Hand Grenade, Impish, and his latest: The Snow Swept Trilogy.
Thane Messinger is an attorney, adjunct professor of business law, and the author of The Young Lawyer's Jungle Book: A Survival Guide; Law School: Getting In, Getting Good, Getting the Gold; and Con Law: Avoiding...or Beating...the Scam of the Century (The Real Student's Guide to Law School and the Legal Profession).
or
Not Currently Available for Direct Purchase