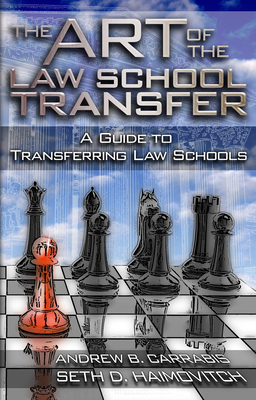 The Art of the Law School Transfer (Paperback)
A Guide to Transferring Law Schools
Fine Print Press, Ltd., 9781888960303, 160pp.
Publication Date: July 1, 2009
* Individual store prices may vary.
Description
"The Art of the Law School Transfer," by Andrew B. Carrabis and Seth D. Haimovitch, is the kind of book you don't realize you need until it's too late. To get straight to the point, if you're either (i) a 1L student a lower-ranked school and think you would be happier at a higher-ranked school (or think you were unfairly passed over for admission to a higher-ranked school but decided to attend your current school regardless), or (ii) a rising 2L student at a lower-ranked school who ends up with great grades at the end of the first year and now is considering how best to leverage those grades, then this book is a must-read and could have a significant effect on your career options after graduation from law school. In case you haven't realized already, the law school you graduate from can make the difference between an attorney office in a first-rate law firm, or working in the basement of the same law firm as a low-paid temporary document reviewer.
Transferring from a lower-ranked school to a higher-ranked school at the end of the first year of law school is the last chance you have to determine which law school's name will appear on your diploma. (There is always the option of "visiting" another law school for your 3L year, but you won't graduate from the school you visit - you'll remain a graduate of your current school.) So if, for whatever reason, you want one last shot at a diploma from that dream school, this is it. Your law school name follows you through your career, and, rightfully or wrongly, it has an impact on your employment prospects, career opportunities, and even on what kind of lawyer clients and other lawyers see you as. And The Art of the Law School Transfer elevates the process of transferring to where it should be - far more than a couple of paragraphs in a typical law school guide, and worthy of a book of its own.
Let me take a step back and relate my own transfer story. I originally applied to only a handful of law schools, one being my dream school, and the others being safeties. Sadly, I was only admitted to my safeties, and I ended up attending my local school with the intent that I would transfer after the end of the first year. I worked extremely hard and achieved some very good grades, putting me at about the top 10% mark, well within realistic transfer territory. But then it all fell to pieces. I submitted what was, in retrospect, a poor transfer application that really didn't highlight what my dream school was looking for, and I ended up remaining at my local school. The worst thing in the world? Perhaps not, seeing as it was a pretty good school. But it wasn't where I wanted to be, and despite graduating with honors and the usual bells and whistles (law review etc.), many of the opportunities available to grads of my dream school simply weren't available to me. After reading The Art of the Law School Transfer, I firmly believe that I could have presented a stronger transfer application, been more proactive about where I wanted to end up, and had a better shot at my dream school had I known more about the inner workings of the transfer process. Sure, it would never have been a path to guaranteed success, but it would have stacked the odds more in my favor. And that's the name of the game - stacking the odds in your favor. No guide book can guarantee success, but books such as this one can give you an advantage. And if that means the difference between a successful thirty year career as an attorney and a short career struggling to make ends meet at the bottom end of the legal market before quitting after two years, then we're literally talking about millions of dollars. Every law student who finds themselves near the top of their class at a law school outside the "top fourteen" owes it to themselves to spend a few bucks on this book and at least consider whether transferring is an option or not.
The Art of the Law School Transfer guides the rising 2L through the process of transferring, but in far more depth and breadth than you might expect. Beginning with detailed information to help guide you though the thought process behind why you want to transfer and whether or not you should transfer, the book then navigates through the mechanics of putting together a successful transfer application, followed by offering substantial survival and acclimatization advice for you in your new law school. In most other law school guides, the section on transferring is minimal, mechanical, and almost an afterthought, but The Art of the Law School Transfer more than adequately covers the process from start to finish (and beyond) in a meaningful, practical way. The book doesn't mince words, and offers some very direct advice, including highlighting the substantial downsides to transferring, and the authors encourage a frank and honest self-analysis of the reasons and motivation behind your desire to transfer. In other words, the book offers far more than the "how," and, like the other guides produced by The Fine Print Press, also explores the "why."
The book is written in a manner similar to "Later in Life Lawyers," which draws upon real-life advice from numerous contributors other than the authors. The Art of the Law School Transfer includes interviews with admissions deans - the guys and girls who single-handedly green-light or reject your transfer application - and successful transfer students. The authors themselves are veterans of the transfer process, each having been successful in the transfer process themselves. There is no shortage of bona-fide expertise here. The book itself goes even further, providing tables of transfer data and other statistics, even going so far as to provide samples of transfer statements and other supporting documents that should accompany a strong transfer application. Short of submitting the transfer application forms for you, there's little this book doesn't do.
Almost every law school web site you visit will have information detailing the transfer process, or, to be more accurate, information detailing the mechanics of the transfer process in terms of due dates, forms, and requirements. At the time I tried transferring, I relied solely on this information, and in retrospect, I submitted what they were asking for, but not what would have set me apart from the other transfer applicants. As the blurb on the back of the book states, "it's not enough to simply submit papers and files on time . . . the transfer process is full of quirks that a novice - any novice - will not see coming." I can attest to this first-hand. It really isn't enough to merely throw a set of decent grades at your target school and assume that you'll be accepted as a transfer student. Although the transfer process is formalized, it doesn't mean there aren't areas in which you can shine, in which you can present a picture of yourself as a student that stands head and shoulders above everyone else with similarly good grades. And The Art of the Law School Transfer highlights the hidden details of the transfer process, giving your transfer application that little extra something in the high-stakes, ultra-competitive world of the law school transfer.