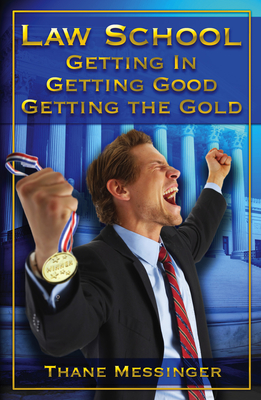 Law School
Getting In, Getting Good, Getting the Gold
Paperback

* Individual store prices may vary.
Description
To get straight to the point, Law School: Getting In, Getting Good, Getting the Gold ("GGG") is, without a doubt, one of the most important law school and legal career books currently available. There are, of course, other guides that have made a huge impact in the market for such materials; "Planet Law School" (which is now PLS II) and "Law School Confidential" are two that immediately spring to mind, and which the prospective law student has most likely heard of. But whereas PLS and LSC are rather practical in nature, which is not in itself a bad thing because being led through the practicalities of applying to law school, preparing, studying, finding jobs and so forth are obviously important, GGG offers all this and so much more. Not more of the same, however, although GGG does cover standard material such as rankings and taking exams, and thankfully chooses to omit the tedious and common-sense generic topics such as how to apply for financial aid and how to pick upper level courses during 2L/3L, while emphasizing the important subjects such as the LSAT.
Praise For Law School: Getting In, Getting Good, Getting the Gold…
"Law School: Getting In Getting Good Getting The Gold by Thane Messinger is not your ordinary law school guide book. Yeah, it has all the typical guide book information; tips about getting into law school, How to 'Get Good' (doing well) and 'Getting the Gold' (a good job).
Significantly, however this book is a bit different from other guide books and contains something more.  That something is practical real world advice. For example, Mr. Messinger starts off his book by explaining what it means to 'think like a lawyer.' That is a critically important concept that is often missing from these types of books. 
He also appears to know what is going on in legal education in most American Law Schools. However, some of the information which he exposes may go over the head of many of the books intended readers (college seniors applying to law school and first year law students). For example, he states that most professors know that the job market is so tight for full time professors today that most would not be hired today by their schools.
Mr. Messinger closes his book with a chapter he calls 'Obiter Dicta.' That chapter is basically a criticism of legal education today. For example, he calls for the rejection of what he calls "legal apartheid" which places the teaching of the law distinct from and superior to the practice of law. He believes that new faculty should have at least 10 years of practice experience, that the curricula should be redesigned and their should more clinical and legal research and writing classes. These are all interesting to someone like me who is an adjunct in academicia, but I do not believe that it belongs in this type of book geared towards students.
With that said, overall, I highly recommend this book to anyone considering law school or in their first year of law school." — Mitchell H. Rubinstein, Adjunct LawProfs
The Fine Print Press, Ltd., 9781888960808, 374pp.
Publication Date: October 10, 2008
About the Author
Thane Messinger is an attorney, adjunct professor of business law, and author of The Young Lawyer's Jungle Book: A Survival Guide; Law School: Getting In, Getting Good, Getting the Gold; and Con Law: Avoiding...or Beating...the Scam of the Century (The Real Student's Guide to Law School and the Legal Profession).
or
Not Currently Available for Direct Purchase