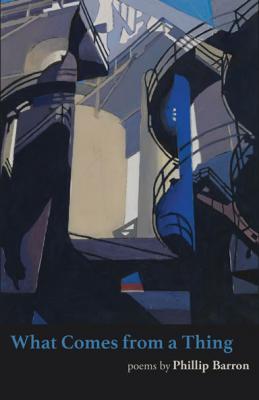 What Comes from a Thing (Paperback)
Fourteen Hills Press, 9781889292670, 68pp.
Publication Date: December 10, 2015
* Individual store prices may vary.
Description
Poetry. California Interest. Phillip Barron's WHAT COMES FROM A THING is the winner of the 2015 Michael Rubin Book Award. The Michael Rubin Book Award is a single-author, first-book award that memorializes the celebrated SFSU lecturer, and is selected by an independently solicited judge and published by Fourteen Hills Press.

"Phillip Barron's WHAT COMES FROM A THING renders the familiar strange again, and so offers us the rare opportunity to re-encounter what we think we know. A mapping and re-mapping of our concurrent worlds, these poems explore the shifting overlays of industrial landscape, post-industrial landscape, the 'natural' world, and all the worlds that exist among them: location is never where we left it... WHAT COMES FROM A THING investigates what it can mean to be alive to our 21st century existence, "bathing in the mortar/ reeds and ruin." Laura Walker.
Praise For What Comes from a Thing…
Phillip Barron's What Comes from a Thing renders the familiar strange again, and so offers us the rare opportunity to re-encounter what we think we know. A mapping and re-mapping of our concurrent worlds, these poems explore the shifting overlays of industrial landscape, post-industrial landscape, the "natural" world, and all the worlds that exist among them: location is never where we left it. Barron stitches through time a tracery of telephone poles, contrails, water, and railroads, bodies of granaries and birds, factories and fields, as he probes received ideas of identity and relation. What Comes from a Thing investigates what it can mean to be alive to our 21st century existence, bathing in the mortar/ reeds and ruin. —Laura Walker, 2015 Michael Rubin Book Award judge and author of Follow-Haswed

What Comes from a Thing is both an asking and a telling. Phillip Barron's poems give voice to objects lost, discarded, fallen into the liminal zone between society and nature. With cool cadences, at once melancholy and analytical, the poet rings the fate of human artifacts as they return to the beauty and mystery of their primary uselessness. In the twilight of industrial civilization, Barron's poems remind us of all 'that we have forgotten how to make.' —Andrew Joron, author of Trance Archive

Phillip Barron's book is a precisionist sounding of chosen scenes, realist in diction, ecological in sensibility--including a human ecology, and intent on tracking the process, the provenances, and the particulars that made us arrive just here. The work inventories these chosen sightlines with a kind of stoicism: "what we have done is what we will become." The authorial voice is at one and the same time the object of history, objective about history, and the subject of history within his own austere findings. These poems are about more than a de-industrialized landscape or the borders between wood and farms, they are materialist statements. —Rachel Blau DuPlessis, author of Drafts

Barron's poems are, in many cases, laments of postindustrial despair, isolation, and ecological ruin. However, what makes his poems satisfying is the contrast between how the poems begin as ordinary strolls along urban streets and wharfs then turn into profound unexpected endings that offer zen-like insight the way satori works in a haiku. —Scott T. Starbuck, author of Industrial Oz: Ecopoems

I liked it a lot, because of the sharp descriptions of things and some surprising transitions, like in "Witness," where [the poem] jumps from a road scene to a jail cell. This sort of leap is, for me at least, vital in energizing a poem. —Bob Schildgen, Sierra Magazine and author of Hey Mr. Green