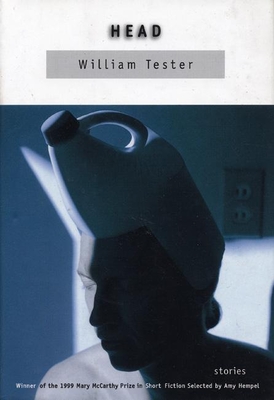 Head (Hardcover)
Stories
Sarabande Books, 9781889330488, 197pp.
Publication Date: October 1, 2000
* Individual store prices may vary.
Description
"People speak of stories and novels as being 'plot-driven, ' or, say, 'voice-driven.' If anything, Tester's stories are "fear"-driven. There is, in these stories, fear of women--each jittery flirtation an agony of nervous desire--fear of a cruel stepfather who routinely endangers his stepsons, fear of one's prospects. There is fear of the very act of speech, given the narrator's ruinous stutter. Yet it is the resulting clumsiness--the missteps, the need so great--that seduces us in ways some smooth operator could not."--Amy Hempel
The eleven gorgeous stories in "Head" are remarkably varied in setting and cultural context: a bullying cattleman forces his two stepsons to lay fence in a Florida swamp; a haunted gay drifter hooks up with a rich young Italian in the shadow of the Vatican. Like Harold Brodkey's manic protagonists, William Tester's characters seem constantly poised on a psychic edge. "Head" contains some of the most daring and genuinely erotic writing in contemporary literature.
William Tester is a native of Charleston and North Florida, and is the author of the novel "Darling," published by Alfred A. Knopf (1992). He has degrees from Syracuse and Columbia Universities, and is the recipient of the NEA Fellowship for Fiction, the Hob Broun Prize, the PEN Syndicated Fiction Award, and grants from the Virginia Commission for the Arts and the Constance Saltonstall Foundation. He teaches creative writing at Virginia Commonwealth University and lives in Richmond, Virginia.

or
Not Currently Available for Direct Purchase