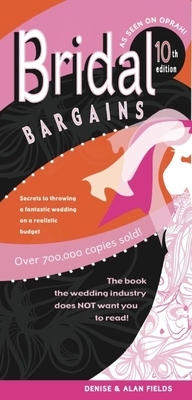 Bridal Bargains (Paperback)
Secrets to Throwing A Fantastic Wedding On A Realistic Budget
Windsor Peak Press, 9781889392394, 480pp.
Publication Date: November 1, 2010
* Individual store prices may vary.
Description
Wow! Finally, a wedding book for the rest of us. With average wedding costs soaring over $25,000, you need real life solutions and creative ideas to plan a wedding without going bankrupt. Bridal Bargains is the answer! Now in its 10th edition with over 700,000 copies in print, Bridal Bargains shows you:

♥    How to save up to 40% on brand new, nationally advertised wedding  dresses.
 
♥    The best web sites to save on everything from flowers to gowns, invitations to, well, you name it.
 
♥    Fourteen creative ways to cut the catering bill at your reception.
 
♥    How to order flowers at wholesale online.
 
♥    Eleven questions you should ask any photographer—and seven money-saving tips to lower that photo expense.           
 
♥    Affordable ways to print your own invitations at a 70% savings.
 
♥    A clever trick to save big bucks on your wedding cake.
 
♥    The best bargains on honeymoons, gift registries, rings, wedding videos  and more!
 
♥    New! Green your wedding with eco-friendly invites, catering tips and more!
The brand new, 20th year anniversary edition is completely re-written, with revised and updated tips on tying the knot without going bankrupt.
About the Author
Denise and Alan Fields have been dubbed the "wedding watchdogs" for their efforts as consumer advocates for engaged couples. But how do two seemingly normal people end up writing wedding books for a living? The Fields met while attending the University of Colorado at Boulder. Denise was a history major specializing in Elizabethan England; Alan was in the business school, studying the marketing of products to Albania. We wish there was some fairy-tale story about how the couple met, but it's actually quite boring--they ran into each other in a dormitory during the infamous Bronco Blizzard. Denise and Alan became writers because they couldn't find any other gainful employment. After college, Denise realized that the unemployment rate for Elizabethan England scholars was 132%. Alan's career as a college newspaper columnist and disc jockey fizzled out as well. Since they had a lot of free time, they authored a small book called Austin Weddings, about their travails planning their own wedding in the capital of Texas (where they had moved after graduating from CU). Then something clicked. The Fields' consumer advice was a hit with brides and the book became a local best-seller. Realizing they had perhaps found a way to make a living without having to get real jobs, Denise and Alan turned out wedding guides to Dallas, Houston, San Antonio, San Diego and Denver. By this time, the Fields recognized something most other so-called wedding experts refused to admit. Forget all this fancy etiquette stuff--what brides and grooms really wanted to know was how to get a good deal on the items for their wedding. Following that theme, the Fields wrote their first national book on weddings, Bridal Bargains.

To say the book was unpopular among members of the "wedding industry" was an understatement. The Fields were banned from attending bridal shows; an editor from a major bridal magazine lambasted the Fields in a letter to the Wall Street Journal. Fortunately, the Fields did have one fan in the media--a talk show host by the name of Oprah Winfrey. Oprah told her viewers to buy the book. 700,000 copies later, the book is the Fields best-selling title to date. The Fields continued writing about life's milestones with their next book, Baby Bargains. Inspired by the birth of their sons, Baby Bargains is a best-selling guide to baby gear that has also been featured on Oprah and NBC's Today Show. As a follow-up, the Fields teamed with award-winning Austin pediatrician Dr. Ari Brown to pen Baby 411: Clear Answers & Smart Advice for Your Baby's First Year. Baby 411 also hit the best-seller chart and produced a sequel, Toddler 411. Both books have over 200,000 copies in print and have been featured on Rachael Ray and Dr. Phil. The Fields live in Boulder, CO.
Praise For Bridal Bargains: Secrets to Throwing A Fantastic Wedding On A Realistic Budget…
"The How To Cheaper I Do's!"
People Magazine
or
Not Currently Available for Direct Purchase